Christmas is in 5 days and I couldn't be more excited! School's over, I'm "working lite" (when you're self employed, it's impossible to completely turn it off), the Christmas shopping is (almost) complete, and the eggnog is chilling in the fridge. Holiday mode is in full swing and so are the festive tunes that are filling my ears everywhere I go!
I'm so in love with music, almost every genre, but when it comes to Christmas songs, there are some that make me cringe – migraine-inducing, nails-on-chalkboard shrieking, repetitive tunes that I can't bear to listen to for another holiday season (jingle bells, jingle bells, jingle all the…shhhht). So to save your ears (and your sanity), I thought I would share with you 5 songs that won't give you a migraine this Christmas.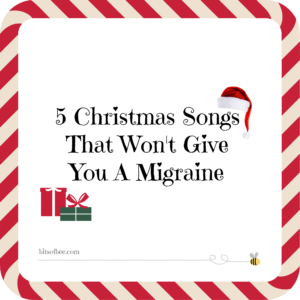 1) Christmas Time Is Here (Vocal) – Vince Guaraldi Trio (A Charlie Brown Christmas Soundtrack)

2) Last Christmas – Wham! (watch the video for a giggle – 1984 George Michael, need I say more?)

3) Christmas (Baby Please Come Home) – The Rosettes

4) So This Is Christmas – John Lennon

5) What Christmas Means To Me – Stevie Wonder

If you're too lazy to make your own Christmas soundtrack, check out all of the great holiday playlists on Songza – including "A Mad Men Christmas", "Classy Christmas", "Wild Christmas" and a ton of other great lists!
Note: I am in no way affiliated with Songza, I just really love their App. 
Wishing you all a peaceful, stress-free, love-filled holiday season, from my family to yours.