Despite the repetitive menu requests from my kids – we can't have quesadillas for dinner every day, so I've tried another cheesy, delicious, Cook With Campbell's recipe that incorporates some of my children's favourite ingredients: meat, cheese, and macaroni noodles -> the Cheesy Beef Skillet Dinner.
As all Campbell's recipes, this one was super easy to make – requiring only one pot (for the noodles), and one pan/skillet (for everything else). This was the perfect meal for a busy evening packed with extracurricular activities (post-soccer game dinner perfection) – and super tasty too!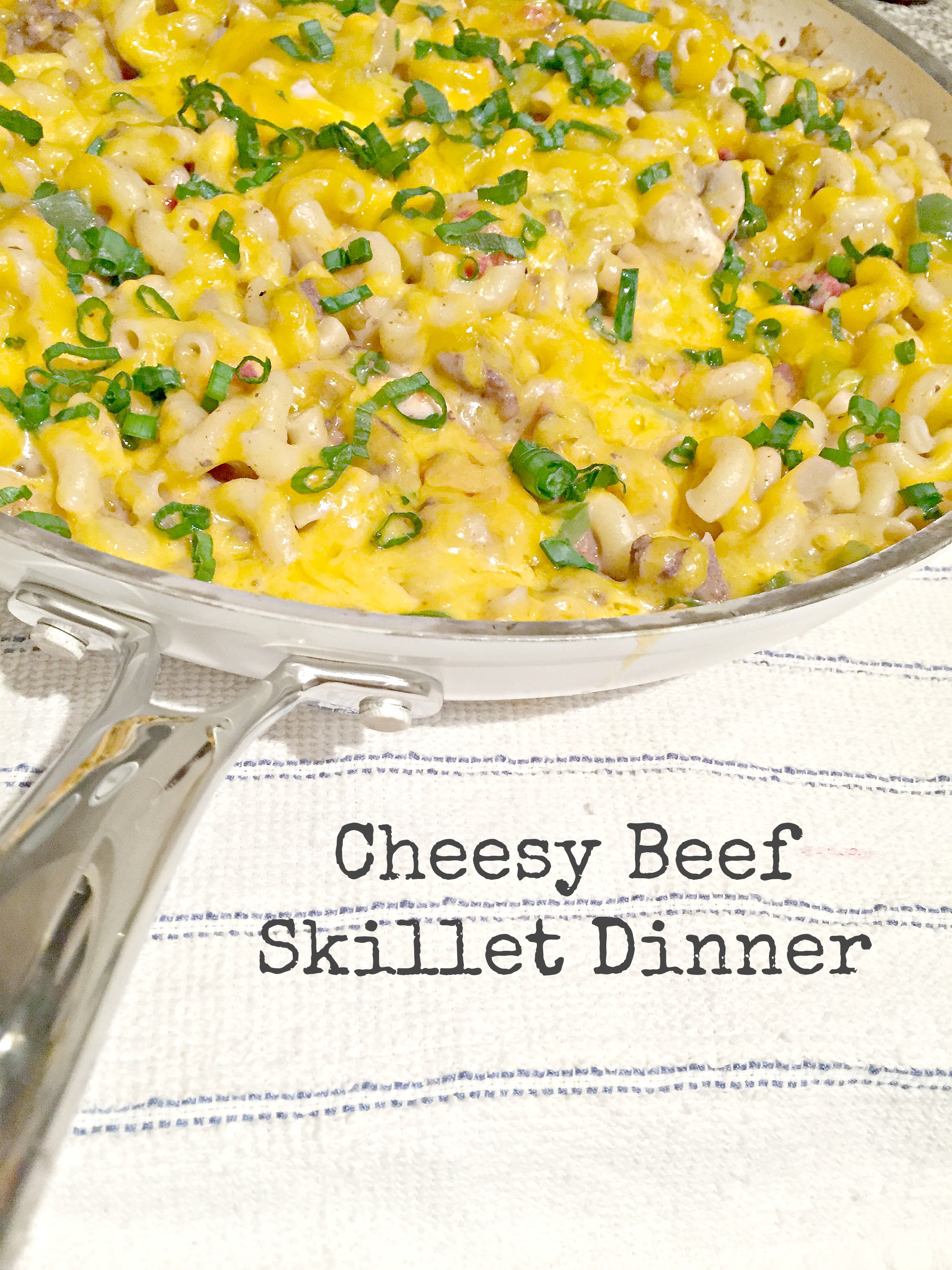 Ingredients: 
| | |
| --- | --- |
| 1 tbsp (15 mL) | canola oil |
| 1 lb (454 g) | lean ground beef |
| 1 tbsp (15 mL) | steak spice |
| 1 | onion, chopped |
| 1 | green pepper, chopped |
| 2 cups (500 mL) | button mushrooms, sliced |
| 1 can (796 mL) | tomatoes, diced |
| 1 can (284 mL) | CAMPBELL'S® Low Fat Cream of Mushroom Soup |
| 1 tbsp (15 mL) | Dijon mustard |
| 2 cups (500 mL) | macaroni, cooked to al dente and drained |
| 3 cups (750 mL) | aged Cheddar cheese, shredded and divided |
| 1/4 cup (60 mL) | green onion, chopped |
Directions:
1) Heat oil in a large, nonstick skillet set over medium-high heat. Crumble in ground beef; season with steak spice. Cook, breaking up into small pieces, for 5 to 7 minutes or until browned. Add onion, green pepper and mushrooms. Cook, stirring occasionally, for 5 to 7 minutes or until vegetables are tender-crisp.
2) Stir in tomatoes, soup and mustard. Reduce heat to medium-low. Simmer for 5 minutes or until slightly thickened. Stir in cooked macaroni and 1 cup (250 mL) cheese until well combined.
3) Sprinkle the top with remaining cheese and green onion. Cover and remove from heat. Let stand for 5 minutes or until cheese is melted.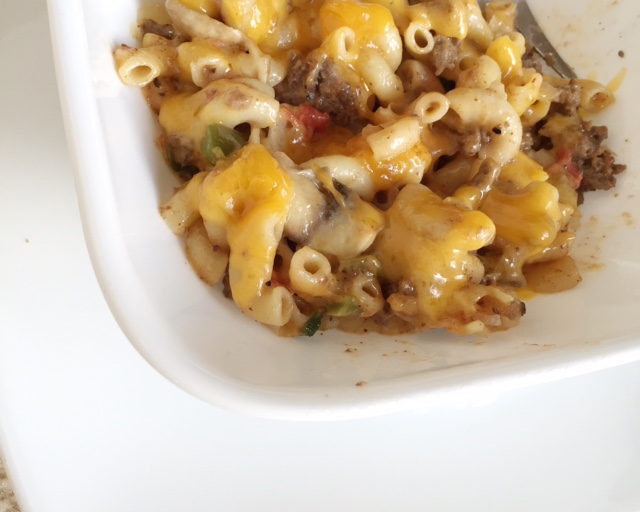 Bee's Take:
1) I like my cheese a little brown and crispy. If you do too, I would suggest popping the finished skillet meal into the oven for a few minutes under the broiler.
2) For picky eaters who aren't crazy about mushrooms, I think this dinner would be equally as delicious using Campbell's Cream of Broccoli Soup, and perhaps replacing the mushrooms with fresh broccoli.
3) The leftovers made the most delicious lunch the next day, perfect for a work-from-home mom like me. I may have added some extra melted cheese on top.
4) Don't forget to cook the macaroni noodles first so they're all ready to add at the end!
*****
Disclosure: I am part of the Campbell Company of Canada Ambassador program with Mom Central Canada and I receive special perks as part of my affiliation with this group. The opinions on this blog are my own.