No matter how hard I try, it's simply impossible for me not to compare my second child's first experiences with those of my firstborn. Because when you experience something brand new for the first time – especially those bittersweet monumental childhood milestones – the memories of those very first experiences stick with you. They tuck themselves in your back pocket like little reminder notes, and you just can't toss them away.
But that doesn't mean that experiencing those moments with the children that follow are any less significant, or anything the same. My second born and only son started Kindergarten today, and it was equally as monumental, emotional and memorable a milestone as when his sister took the leap into the world of school-aged childhood.
I was just as nervous as I was for Emma's first day of Kindergarten. I couldn't sleep the night before – tossing and turning, my mind racing with worrisome thoughts of how his first day would go.
After his less-than-successful Kindergarten orientation, I feared the worst. I prepared myself for tears and persuasive talks and sideways glances from the unfamiliar faces of new parents. I imagined holding my youngest under my arm – kicking and screaming – while I attempted to coax my little guy into his new classroom.
I had countless talks with my son about his first day. I walked him through the steps of how his first day would go, led him through the school on practice visits, and even promised a treat if the day went well.
And you know what? He nailed it.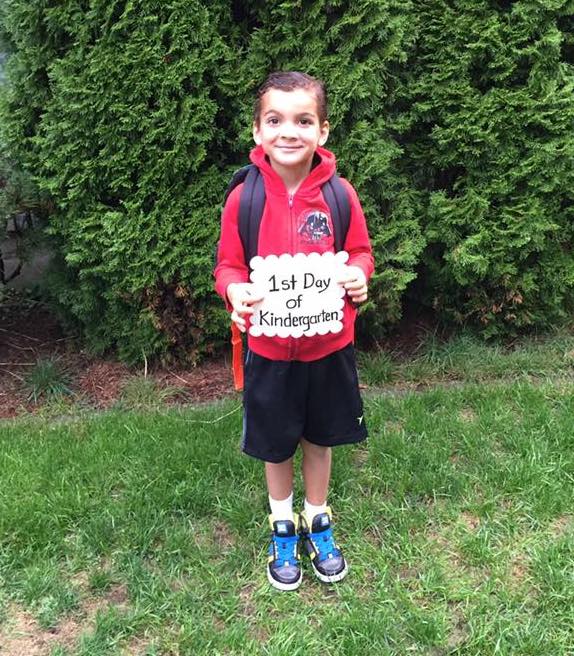 My little guy walked right into the classroom, gave me a confident wave goodbye, and sat right down on the mat as directed by his new teacher. He watched intently as she read him a story, and a wide grin spread across his face. I was so proud of him that tears welled up in my eyes. My sweet little boy had done it. He had willingly and enthusiastically stepped across the threshold between nervous little child to confident big boy Kindergartener, and my heart was full.
Two down, one to go…