I had heard about sensory deprivation (or "floating") from friends and fellow bloggers, and to be honest, the idea kind of freaked me out. The thought of floating in complete silence and darkness in an enclosed space for a long period of time sounded scary, odd, and anything but relaxing. Not to mention the negative connotations that I automatically associate with the term "deprivation".
Why would I want to deprive my body of its senses?
I had been approached by other float spas in the past, offering the opportunity to try their services in exchange for a blog post on my experience – and in the past I had kindly declined, convinced that this "treatment" jut wasn't for me. But when Metta³ Rest Spa reached out to me – referring to their spa service as Flotation REST (Restricted Environmental Stimulus Therapy), and explaining the many health benefits that are associated with the age-old practice, I was intrigued.
After reading through the benefits of flotation rest, and browsing through the image gallery on their website, I decided to give it a try.
I'm not going to lie – I was nervous – really nervous about trying something so foreign to me. What if I get claustrophobic? What if I fall asleep and drown? What if I get into the room and freak out and want to leave? What if I get locked in the pod and no one can hear me? My imagination was running wild. But I had committed to trying it, and I wanted to conquer my fears with an open mind, so in I went.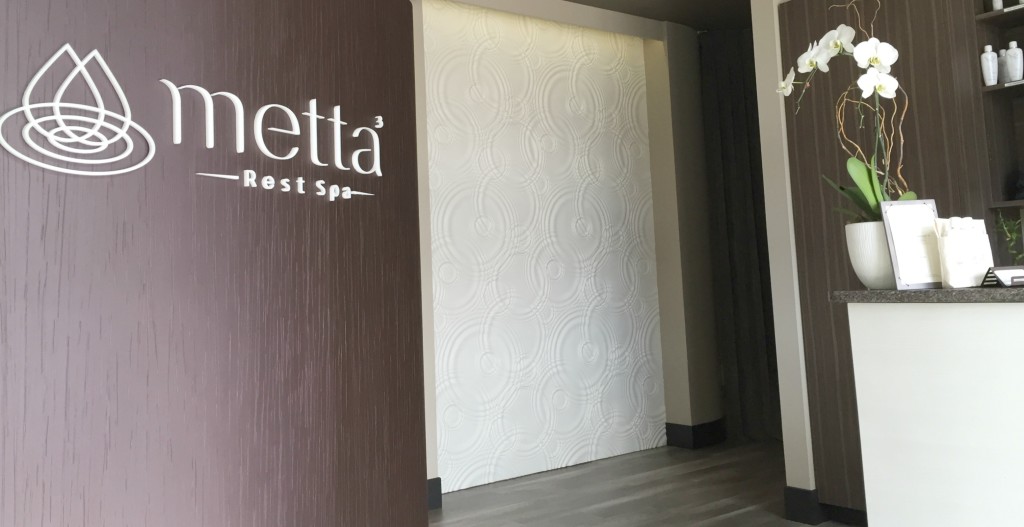 When I walked in, my nervousness subsided. The entryway was welcoming, with modern decor, and a calming ambiance like that of other (more traditional) spas that I had been to.  The staff was friendly and very knowledgable – happy to answer any questions that I had.
I was given a full tour of their facilities, and then I headed in to take advantage of some of their amenities before my treatment began. Once I had changed into my robe and sandals (all provided), I checked out the colourful library – which included books, a fully-loaded Kindle, water, and tea. It was a quiet and cozy atmosphere – the perfect place to relax and calm my nerves before my first float experience.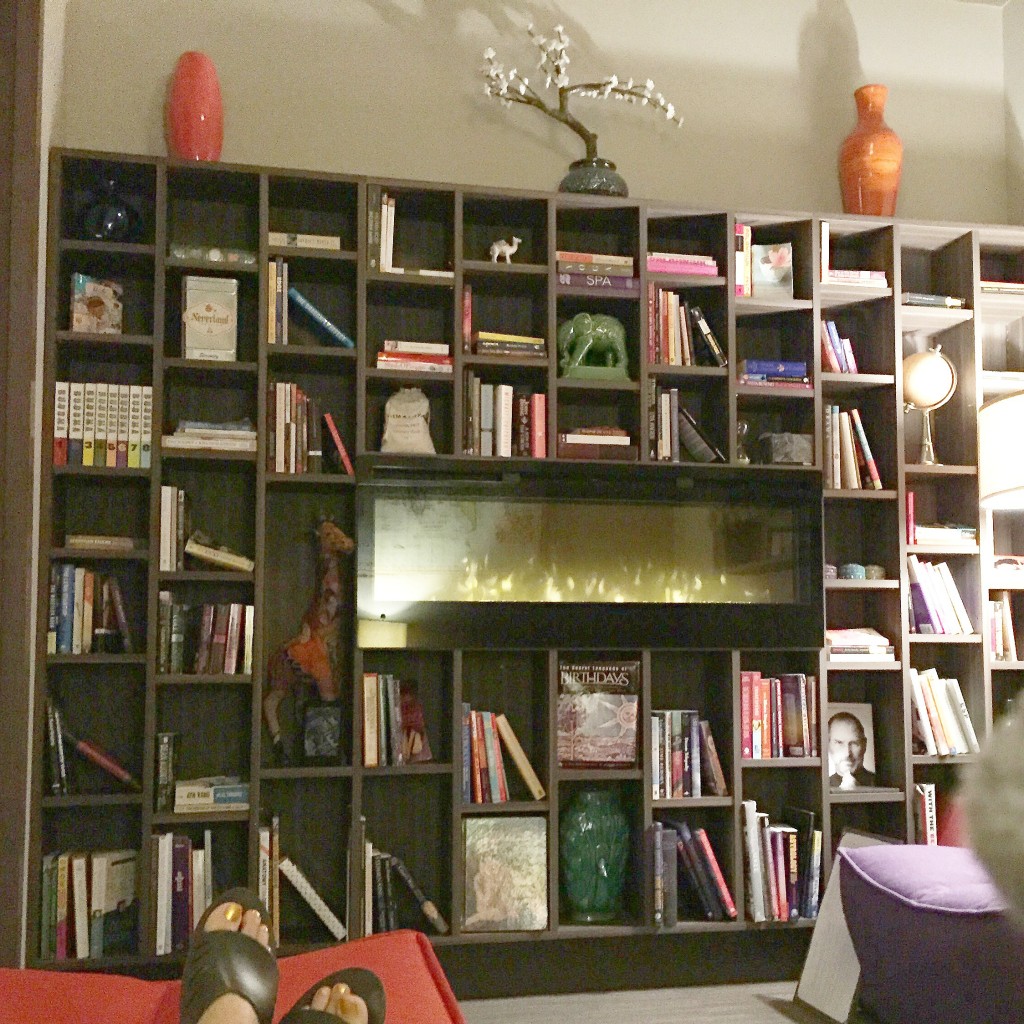 When the time came for me to move to the "Illumination Room" – one of the 7 themed flotation rooms, I became nervous once more. The staff member walked me through the process step by step, and eased my nerves by letting me know that ultimately I was in control of my experience. If I wanted to leave the pod lid open, I could, and the motion-sensored lights would come on. He left the room, locked the door, and I was alone.
The room had a large open shower, a cozy robe and towel, and beautifully-painted walls that provided a soothing atmosphere. As the pod began to fill, I showered off and prepared to climb in. My heart was racing and I hesitated as the pod lights came on and the quiet sounds of birds chirping gently filled my ears.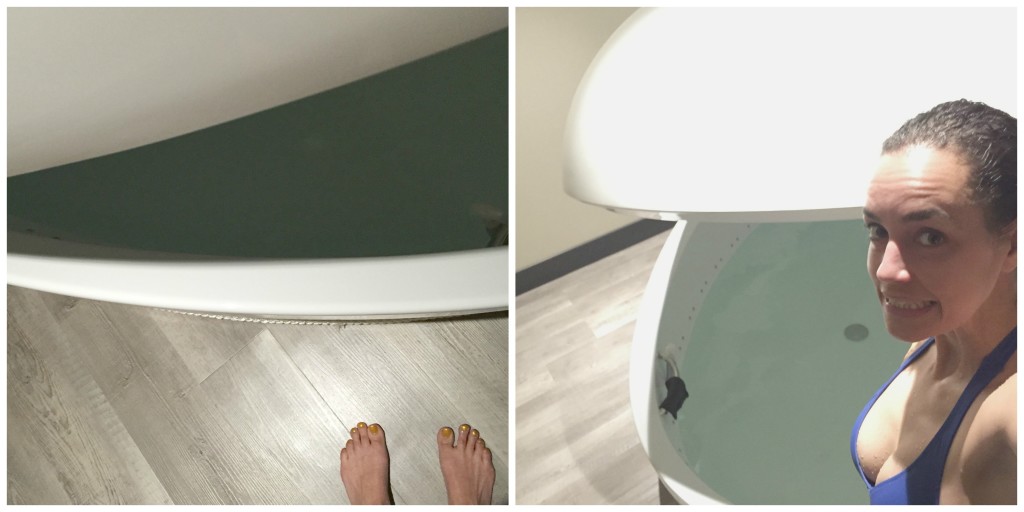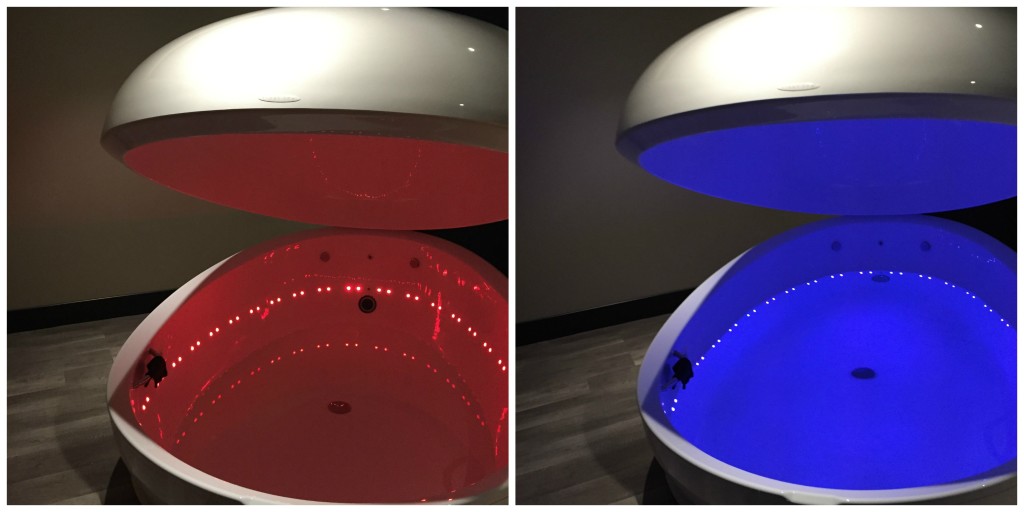 The water temperature was perfect. And as I laid back and let go of the sides, my body floated effortlessly. The water was only up to my calves so the depth didn't intimidate me, and I had left the pod lid half open – just incase I were to panic.
As I moved into position, the lights slowly faded from red, to blue, to green, to yellow, and the soft sounds of chirping birds continued. I was no longer nervous, but instead felt completely relaxed as I let my body float and my eyes close.
After a few minutes the lights and sounds began to fade, and then it was completely dark, and totally silent. At first I had a flash of panic.
HOW am I going to lie here with no light or sound for an HOUR, I thought to myself.
As a mom of three young children (and a rather loud dog), I don't think I had experienced even a moment of silence in over 7 years, so this quiet, calm state was a very new experience. I took a deep breath, and as I exhaled I let every last tightness in my muscles relax. And I just floated.
After only a few minutes the line between the water and my skin seemed to dissolve, and it felt as though I were laying in a bed full of cotton. I felt weightless, relaxed, asleep (but not?).
And then the lights began to fade in again. And the soft sounds of birds slowly came on once more. I slowly opened my eyes and stretched my arms and looked around.
Had a full hour really passed ALREADY!?
As I climbed out and showered and exited the room, I had a huge smile on my face. I had never felt so fantastic in my life.
I felt refreshed, rejuvenated, rested – like I had just taken the best, most relaxing uninterrupted 8 hour nap of my life. 
When I left I was full of energy. I felt better than I had ever felt after a massage or a nap. The aches that I had had in my body from too many sleepless nights with my baby were gone, my recently-broken baby toe that had been aching felt somehow better, and my skin felt tight. I wanted to tell everyone about this great new "floating" thing that I had tried – and since that day I haven't stopped talking about it.
Check out their video to see how it all works:
Mamas – you have to try this. I promise I wouldn't be sharing about this unless it was something that I truly enjoyed. And because I know it sounds a little crazy – you truly have to try it yourself to get it – I've convinced the lovely team behind Metta³ Rest Spa to provide me with another free spa experience to give to one of my readers!
Enter below for a chance to win a free REST session at Metta³ Rest Spa – valued at $75!
NOTE: Winner must be available to enjoy their spa session in person at the Vancouver location – located at 3663 West Broadway in Vancouver, BC Canada.