There's one thing that I love (almost) as much as I love my family: food – so it makes perfect sense for me to celebrate the upcoming day of love with the gift of grub!
Through my business, I've been fortunate to work with Brad Hill – an incredible photographer and publisher of the Foodie Book series. Not only have I enjoyed creating buzz for his business, but the books have opened my eyes to new culinary destinations that I might not have otherwise discovered.
After the launch of his first book – the North Shore Foodie, a group of friends and I started our own food tour – working our way through the featured restaurants in the book. It's been a great excuse to veer away from my usual restaurant spots and try something new, and I look forward to eating my way through the East Van edition next!
To celebrate my love for food, I'm excited to be sharing with you a chance to win a copy of the East Van Foodie book and a gift certificate for $40 to enjoy a delicious meal at Jamjar. Enter below for a chance to win this gift pack fit for a foodie – one that you can keep for yourself, enjoy with a friend, or gift to your sweetheart on Valentine's Day.
About the East Van Foodie Book:
It's a dazzling coffee table book filled with mouthwatering images of delectable dishes. It's a collection of recipes ranging from vegan fare to courses fit for carnivores – from simple everyday meals to complicated culinary processes that will push you outside of your cooking comfort zone. It's a story book filled with the history and heart behind some of Vancouver's most esteemed dining destinations, and it's a book of discovery, where you'll learn something new about the tools, tales, and tastes that come from the kitchens of our city – and from around the world.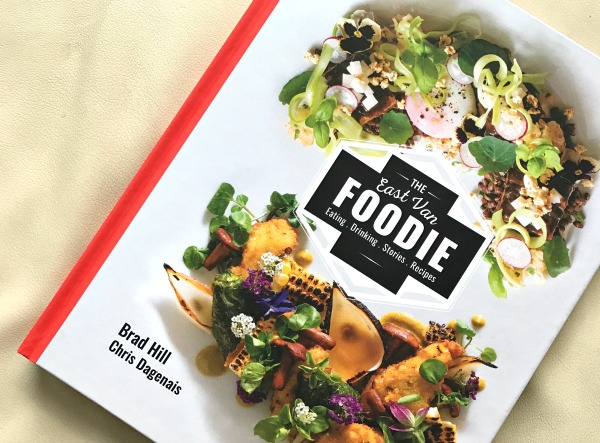 About Jamjar Restaurant: 
Tantalize your tastebuds with the flavours of folk Lebanese food, cooked with passion and made from scratch in a cozy setting on Vancouver's Commercial Drive. Using fresh ingredients and the aromatic spices of East Mediterranean cooking, Jamjar connects diners through communal sharing, nodding to Lebanese culture and the art of sharing food while enjoying the company of family and friends.
Enter for a chance to win below.
Note: Entrants must live in the Greater Vancouver Area.