Beauty, confidence, and self-love. Three things that every woman should feel about themselves, yet also three of the most challenging things for many women to embrace. In my case, those three things have been overshadowed by my love for my three children, and I know that I'm not alone.
Before children, I took the time to make myself feel beautiful. I felt confident in my own skin, and took the time to love myself (my mother always said that "you can't love someone else until you truly love yourself first").  But when I became a mother, all of my love went to my children, and my self-confidence, self-love, and comfort in my own skin fell to the wayside. My body changed, my priorities changed, and my "me" time was replaced with "we" time. It's not that my self-confidence and self-love had diminished entirely, they had just become less important in a world where there were so many other things to focus on.
"RAW strives to help women everywhere find confidence in their raw, unique beauty so that they are no longer imprisoned by society's conventional standards of beauty.  We want every woman to feel comfortable in her own skin so that she can take on the world and live life to the fullest."
As I browsed through my Facebook, Twitter and Instagram feeds, feeling especially self-conscious about my outward appearance after wading through a sea of picture-perfect faces and perfectly-posed smiles, I scrolled past an image that caught my eye. It was an image that I had seen on my Facebook feed in the past. An image that had gone viral overnight when it was originally posted by an Australian woman who wanted to break the barriers of photoshopped and overly-filtered images that graced the pages of mainstream media outlets everyday.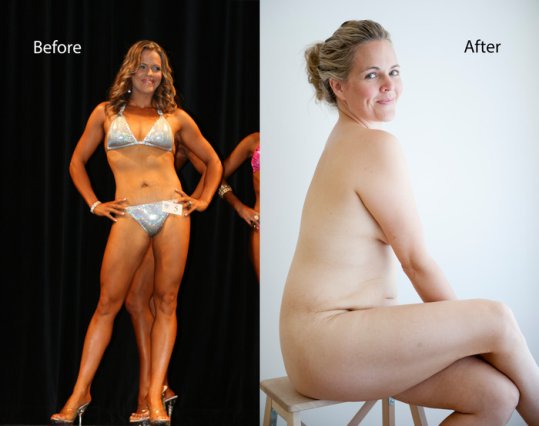 Taryn Brumfitt's image (above) sparked a global conversation about body image, encouraging women to open up about how they truly feel and speak about their bodies. Her image has since received over 100 million hits, and has led to the creation of a documentary film that was created with the over $330k raised through a viral Kickstarter campaign.
On September 30th, Taryn is coming to Vancouver to share her unique story, and I can't wait to hear what she has to say! I'm going to enjoy some time away from the kids to remember who I am, to remember what makes me feel beautiful, confident, and comfortable in my own skin.
Join me for an unforgettable evening of honest talk, cocktails, and fun! More info and tickets below.
#EmbraceVancouver with Taryn Brumfitt
Presented by THE COLLECTIVE + RAW Beauty Talks
When: Tuesday, September 30, 2014 from 7-10pm
Where: Waterfront Theatre, Granville Island, Vancouver BC
SPECIAL OFFER: Use the code "bee" when purchasing your tickets and receive 15% off the regular ticket price!
Learn more about how you can join the movement.