I've been going to see The Nutcracker ballet at the Queen Elizabeth Theatre in Vancouver every year since I was 3 years old, and after over 30 years of Sugar Plum Fairy-twirling, soldier sword-yielding, mouse menacing, and ringleted ballerina dreaming, people often wonder what keeps me going back for more – year after year.
The truth is, each year's performance is like a brand new experience for me. While the music has remained the same since the first adaptation of the story in 1891, Tchaikovsky's familiar Nutcracker Suite perfectly compliments the ever-evolving choreography that accompanies the classical Christmas ballet.
I love that Ballet BC brings in guest ballet companies each year to perform their own rendition of The Nutcracker. Last year, The Royal Winnipeg Ballet surprised guests with Canadian-themed twists, and this year, Alberta Ballet returned with some surprises of their own.
The choreography, led by Edmund Stripe, was sophisticated and stunning, yet it preserved the youthful liveliness of the children's tale. As in previous years, the performance featured over 80 young dancers from dance schools across the Lower Mainland, but this year the tiny dancers were brought to the forefront of several scenes, performing technically-challenging steps seamlessly and with contagious enthusiasm that lit up the stage.
The sets and costumes, designed by Emmy Award-winning designer Zack Brown, brought an elevated level of drama and realism to the stage this year, featuring lifelike costumes, sparkling snowflakes, and comedic whimsy to characters like the grandfather, who merrily trotted across the stage with a bouncing head of silver locks that had the crowd bellowing with laughter.
Alexandra Gibson played the role of Clara in the opening performance, and her exuberant acting and technically-sharp dancing made her character believable and engaging throughout the performance. I recognized Alex from previous Alberta Ballet performances (along with her identical twin sister Jennifer who shared the stage), yet her performance this year seemed to have an elevated level of energy and maturity.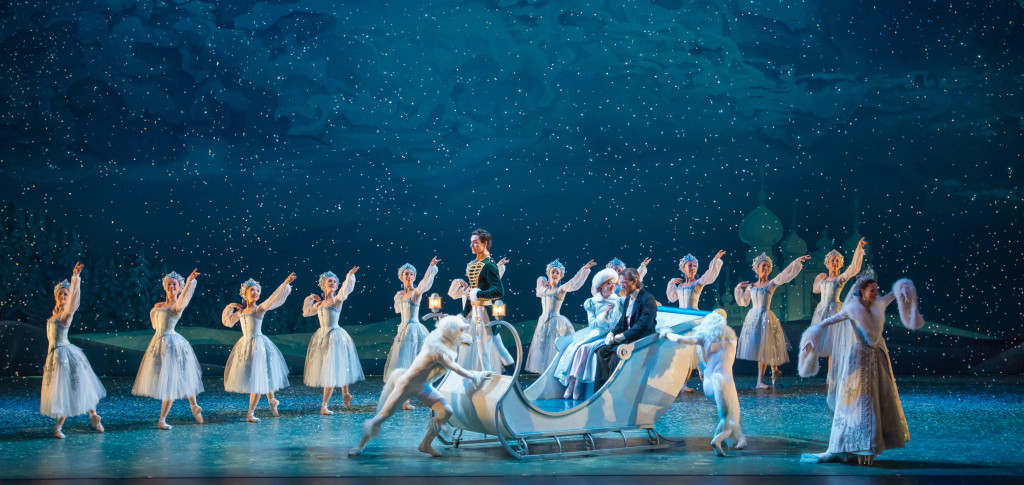 When the Sugar Plum Fairy glided across the stage, shimmying effortlessly en pointe in her sparkling gown, I immediately recognized the dancer as Christiana Bennett, a prima ballerina who had danced with Ballet West (and starred in a ballet-themed reality show Breaking Pointe in 2012).  Christiana shone brightly, proving to be an asset to the highly-acclaimed Canadian dance company.
This year's performance of The Nutcracker was astounding, a can't-miss holiday event for both seasoned ballet enthusiasts and first-timers alike.
Lucky for you, tickets are still available for the remaining dates:
December 30th @ 2pm & 7:30pm
December 31st @ 2pm