We've recently welcomed our third baby into the world, and while we love her to bits, I think she sometimes feels a little neglected. She often spends the entire day in her pyjamas, and while she's only 4 months old,  I feel like she's already starting to notice the lack of variety in her wardrobe.
I had been admiring VONBON Childrens Apparel for a long time through my Instagram and Facebook feeds, and was so excited when a little package full of beautifully-wrapped, organic goodies arrived at the door for my little girl.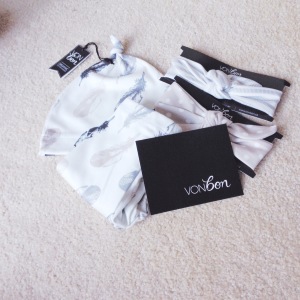 Cloey looked absolutely adorable in her new trendy garb, and I was pleased to discover that all of their products are not only high-quality and eco-friendly, but also fashionable and unique! After having enjoyed the VONBON experience firsthand, I thought I would share with you 5 reasons to love VONBON:
1) VONBON IS STYLISH. Incorporating modern designs with neutral colour palettes, VONBON products are perfect for any age, gender, and lifestyle. Their designs are fresh, and offer a fashion-forward alternative to the drab, colourless children's clothes that are marketed as "gender neutral" in most shops.
2) VONBON IS LOCAL. I love supporting local businesses, and their products and apparel are designed and crafted right here in beautiful Vancouver, BC.
3) VONBON IS ORGANIC. Their products are made using certified organic cotton, and their fabrics are carefully crafted using water-based inks, making them safe for the environment and your little one's sensitive skin.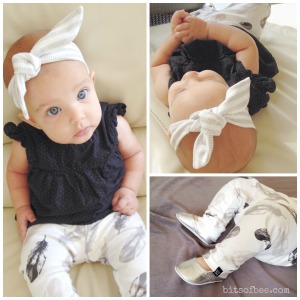 4) VONBON IS QUALITY. From the personalized notes that arrive with their orders, to the high-quality, premium fabrics and designs they use, their little touches make them a truly unique and stylish line of clothing.
5) VONBON IS UNIQUE. Each pattern is designed by the VONBON team, and the products have been created with the ability to mix-and-match every item, allowing their customers to create their own unique look and style.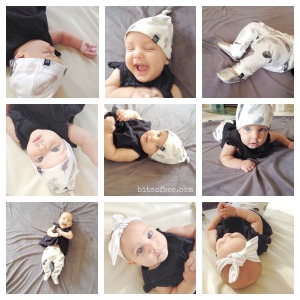 Not only do I love VONBON for my own little girl, but I think their products would make the perfect gift for baby showers, birthdays, and special occasions. Want to get your VONBON on?
EXCLUSIVE OFFER: Bits of Bee readers can enjoy a 15% off discount when using the code "BITSOFBEE". Click on the image below to start shopping now. Note: Offer only valid from October 7, 2014 – October 31, 2014.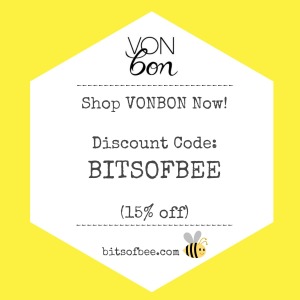 WIN a $30 VONBON Gift Card: Enter below for a chance to win a gift card to VONBON Childrens Apparel!
a Rafflecopter giveaway