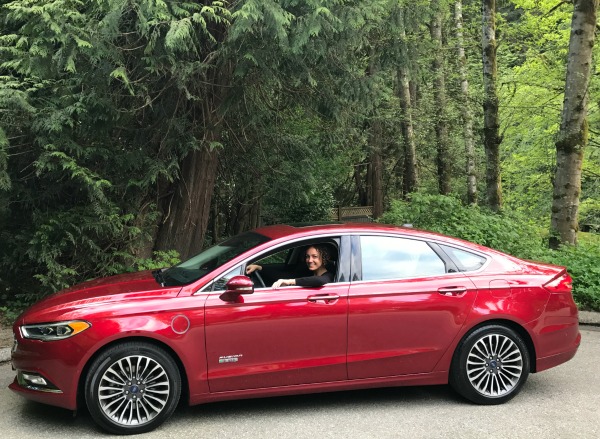 I'm not going to lie, I love my full-sized SUV. It's spacious (seats 8 people comfortably), allowing me to participate in multiple play dates, soccer carpools, and family road trips with ease. But there's one thing that I dread when I'm driving my gas guzzler around town – that once-a-week routine of having to fill up the tank.
When I was approached by Ford Canada to trade in my SUV for a week and try out the new Ford Fusion Energi, I was skeptical – but also intrigued. I didn't fully understand what "hybrid" actually meant, but I was willing to give it a try. I parked my SUV and carried on my usual weekly routine in the new Ford Fusion Energi – with all 3 kids in tow. Here's my honest review of our experience.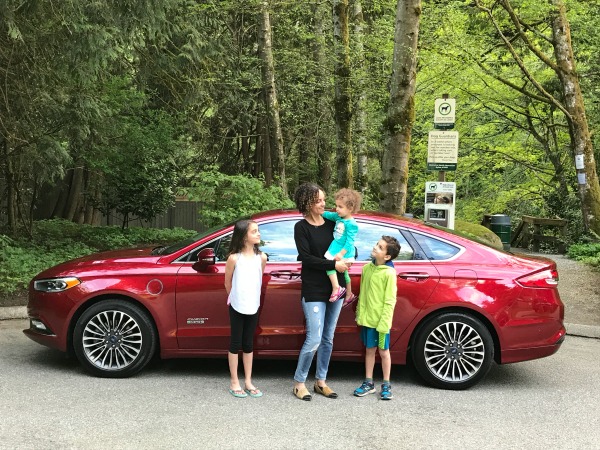 It was difficult not to love the Ford Fusion Energi when I first opened the door and sat behind the wheel. Fusion-specific features aside, I was swept away by all the bells and whistles that my current car lacked. Bluetooth. Round-the-car sensors with backup cam. Heated seats. A sunroof. I tried not to be wooed by the "newness" of the car, but the new car smell and digitally-integrated features definitely helped make my experience more enjoyable.
What is a hybrid car?
Before I dive into my likes and dislikes about the new Ford vehicle, I thought I'd explain what a hybrid actually is – for those of you (like me) who secretly don't know.
Hybrids use two power trains – generally a gasoline engine and electric motors. Together, they aim to reduce fuel consumption by using smaller engines which spend less time running, while maintaining or improving performance thanks to electric assistance. (Source)
5 things I loved about the Ford Fusion Energi:
The keyless entry/start.
The very first thing I noticed when I was handed the keys for my one-week test drive, was that there weren't actually any keys at all! Instead, I had a compact fob-like keychain with buttons that locked/unlocked the car, and even started the car if I was indoors and wanted to start and heat up the car before departure. Loading the kids and all all of our stuff was simplified, because I just had to have the fob in my pocket to engage the unlock function on the doors, and the vehicle started quickly – with the push of a button.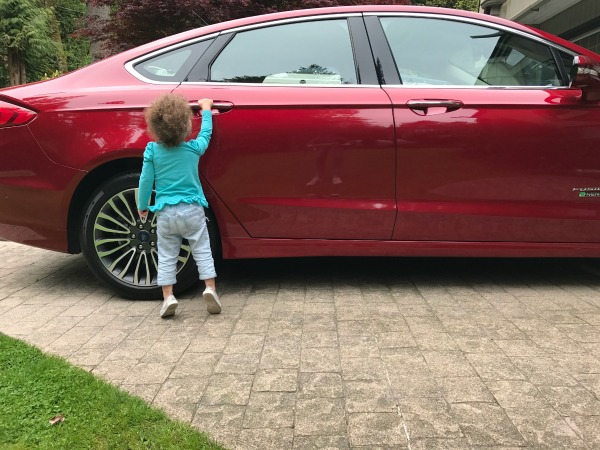 The rotary gear shift.
As the driver of an SUV, my hand immediately went to the base of my steering wheel, looking for the large gear shift to put the car into Drive. I quickly realized that this car had a small wheel beside the cup holder that acted as the gear shift – adding to the spaciousness of the front seat area. No more bumping my hand on a protruding shifter when reaching for my coffee! It's the little things…
The top-of-the-line technology.
I was blown away by all the the integrated technology in this vehicle. From the  SmartGauge® with EcoGuide (dual LCD screens that include features such as the Brake Coach chart to help maximize your vehicle's efficiency), to the SYNC Connect112 Powered by FordPass (ability to start, lock/unlock, locate your vehicle using your Smartphone), to EV  Mode (ability to choose between all electric, all gas, or a combination of both with the press of a button) – this car was like an advanced robot on wheels!
The Gas savings!
You guys, this one was the clincher for me (hence the !). In my daily driver, I spend an average of $80/week on gas. While using the Ford Fusion Hybrid, I used less than half a tank during my week of driving, and ended up only having to put $30 in the tank after our 7-day trial run. That's a savings of $50 per week on gas alone. Just by switching over to a hybrid vehicle, I could be saving around $2,400 a year in gas. This was huge.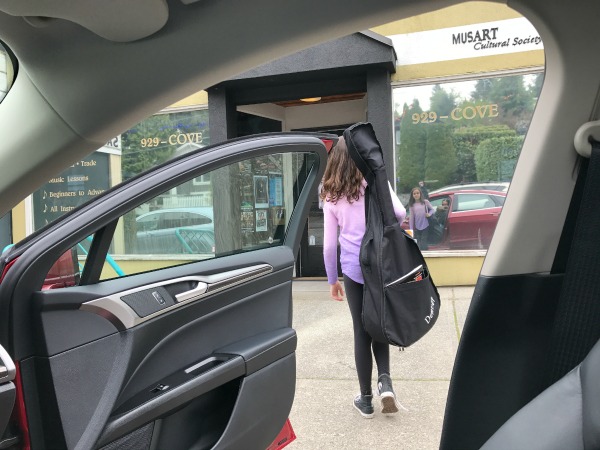 The ease of use.
One of the reasons why I'm often hesitant to try new things that I don't completely understand: laziness. I thought that driving a semi-electric vehicle would be complicated, time consuming, and high maintenance – but it was quite the opposite. To plug it in, all I had to do was take the charger out of the trunk, and plug it into the house. To switch from electric to gas, I just had to push a button. So simple! Plus, I loved the capless gas tank – no need to
A few things I didn't totally love…
The trunk space wasn't ideal for my larger-than-average family. The hybrid battery takes up some of the space.
The back seat space was a bit tight for more than one car seat (big family problems).
The limited seating (with 3 kids, it's nice to have space for friends, bags, etc. – again: big family problems).
The Verdict:
My husband and I agreed that a Ford Fusion Energi would make a great second vehicle for our family (we currently have a smaller sedan that isn't as fuel efficient). We loved the sporty look of the body style and the family-friendly features that would have us cruising in style while saving money.  Overall, we loved it.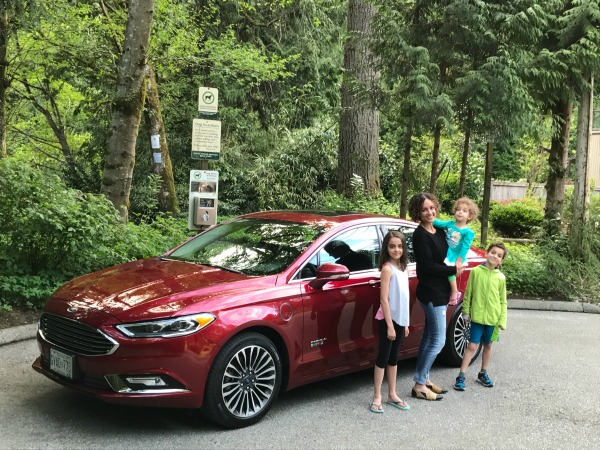 Disclaimer: Ford Canada provided my family with a Ford Fusion Energi to test drive for a week, however the opinions in this post are completely my own.