While I cook all the meals in my home, I've become a lackadaisical chef.
There was a time when I enjoyed cooking. When my relationship was new and I cooked to impress. When I didn't have fussy little mouths to feed. When new meals weren't met with dry heaves and gasps of disgust.
Now, I cook to survive. To keep my family alive. My enthusiasm has dwindled, replaced with disdain. If I could hire a full-time chef – someone to nourish my family for me, I'd be in heaven. But at this time, I just can't afford to make that dream come true. So I I cook away at my monotonous menu – 5, maybe 10 meals that I make in rotation. Meat. Veggies. Starch. Repeat.
The other day I was surprised with a package in the mail. A wooden box emblazoned with #CatelliFamilies. I knew the Catelli name well (homemade macaroni and cheese using Smart Catelli pasta is one of my trusty standbys), and couldn't wait to see what was inside.
When I opened the box, I found 2 boxes of Ancient Grains pasta, a bottle of white wine vinegar, 2 yellow zucchinis, and a lemon.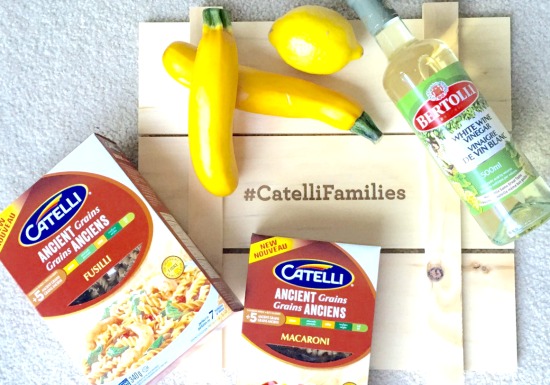 What am I supposed to do with this? I thought to myself.
The note attached challenged me to come up with a recipe, create and share it, using the provided ingredients and anything else I'd like to add to make it my own. My initial instinct was to make my usual mac n' cheese, and toss the rest of the stuff into the cupboard (aka let it expire and toss it out), but then I thought to myself: here's my chance to make cooking fun again.
Challenge accepted.
With a little help from Chef Google, I came across a do-able recipe and went straight to work. Here's what I came up with:
Roasted Garden Vegetable Pasta Salad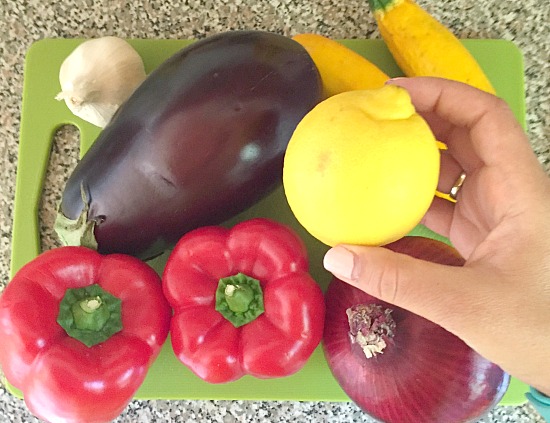 Ingredients:
1 340g box of Catelli Ancient Grains Fusilli pasta

2 medium eggplants

2 medium yellow zucchinis

1 large red onion, cut into 1/2-inch slices

2 medium sweet red peppers, cut in half and seeds removed

1/4 cup olive oil

1/2 teaspoon salt

1/4 teaspoon pepper

3 plum tomatoes, chopped

1-1/2 cups (6 ounces) crumbled feta cheese

1 can sliced ripe black olives, drained

2 tablespoons minced fresh parsley
PARMESAN VINAIGRETTE:
3/4 cup olive oil

1/3 cup grated Parmesan cheese

1/3 cup white wine vinegar

3 tablespoons lemon juice

1 teaspoon sugar

1 garlic clove, minced

1 teaspoon salt

1/2 teaspoon dried oregano

1/2 teaspoon pepper
Directions:
Cook pasta according to package directions; drain and rinse in cold water. Place in a large bowl and set aside.

Meanwhile, cut the eggplant, zucchini, red pepper and onion lengthwise into 3/4-in.-thick slices. Brush with oil; sprinkle with salt and pepper. Grill vegetables, covered, over medium heat for 4-6 minutes on each side or until crisp-tender. When cool enough to handle, cut into cubes.

Add the tomatoes, feta cheese, olives, parsley and grilled vegetables to the pasta. In a small bowl, whisk the vinaigrette ingredients. Pour over salad; toss to coat. Cover and refrigerate until serving.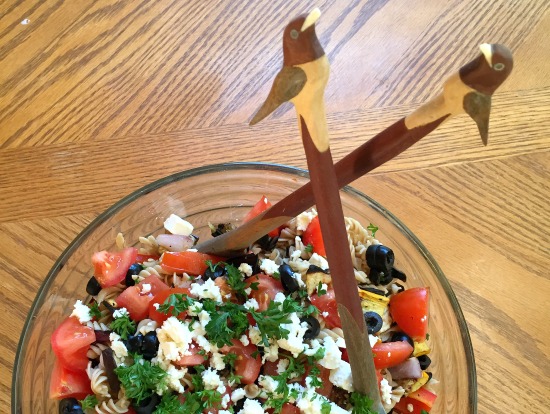 Bee's Take:
I thought it was so delicious, perfect as a light, vegetarian meal on its own, or as a great compliment to a BBQ'd meat (I served it with ribs and crusty french bread)
My kids didn't like the roasted vegetables or feta (because THEY DON'T LIKE ANYTHING), but they loved the noodles! (thankfully they were healthy)
I'm looking forward to eating the leftovers for lunch. Healthy, filling and totally delicious. Adding this to my Summer list for sure.