I have always loved dining out. In fact, if I could relinquish my cooking responsibilities entirely in favour of a personal chef, or meals carefully prepared and elegantly served in a comfortable dining environment, I would shut down my kitchen in a heartbeat. I love to eat – but I don't love to cook. And now that I have 3 children (2 of which are in school), making lunches has become the bane of my existence.
But while I love going out for dinner, I'm getting rather tired of the regular family-friendly dining destinations (I love you White Spot, but a girl can only have so many Triple-O burgers). So for those of you who are looking for locally-owned alternatives to the typical big chain restaurants and coffee shops that are frequented by child-toting families, check out these 3 picks for family-friendly food spots fit for a foodie:

Well Fed Studio
Many of my Fridays have been made better thanks to Well Fed Studio. Not only do they provide cooking classes and high quality, all-natural meals to go, but their magic lunch box program is a fantastic addition to my children's hot lunch days at school. Unlike the hot dog days, and McDonald's days we had at my school when I was growing up, Well Fed Studio looks for ways to add nutrient-rich ingredients and essential lean proteins to their carefully-prepared lunches – providing kids with the staying power to learn effectively. Thanks to Well Fed studio, my kids are well fed on hot lunch days, and I don't have to lift a finger. Win-win.
If you pop into their studio, check out this fabulous special offer.

---
If you're looking for a family-friendly spot for lunch or dinner on the North Shore, InGrainPastificio is a must-visit dining destination. Owned and operated by brother-in-law duo, Alistair Knox and Erick Kauko (infamous for their Deep Cove hot spot Arms Reach Bistro), InGrain Pastificio produces their own pasta in-house using all-Canadian, locally-sourced high-quality grains. Their easily-accessible restaurant offers high-end Italian-inspired dishes in a comfortable, laid-back environment – perfect for noodle-crazy picky eaters like mine.
Want to learn more about how InGrain Pastificio came to be? Check out their fascinating story in The North Shore Foodie book – written by yours truly.
---
Our family loves to go for strolls along Ambleside beach in West Vancouver, and on chilly days, stopping for a treat and some warm bevies afterwards is the perfect way to complete our day. And while we love the usual big-chain coffee shops, a chocolate or mini dessert at Temper Pastry hits the spot for my little sweet-tooth boasting kidlets.
---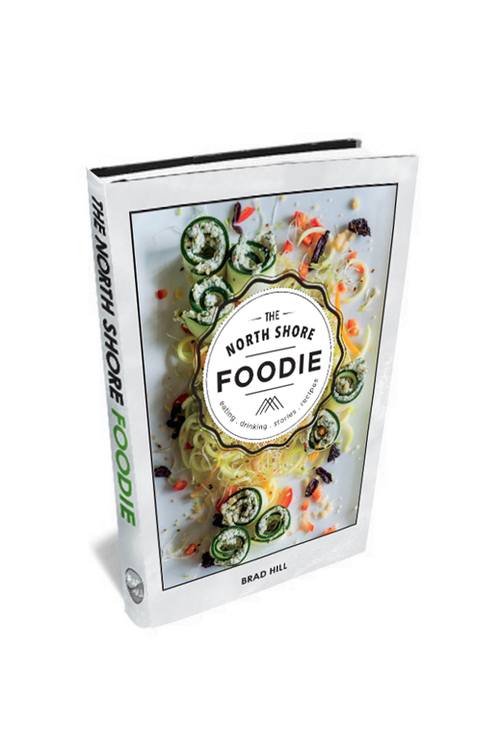 For more on these and the many other fantastic, independently-owned North Shore food & drink destinations, check out The North Shore Foodie book – available online and in-stores on November 16, 2015.
The book features the stories behind 37 leading independent North Shore restaurants, bars, cafés, bakeries, breweries, butchers and chocolatiers, and over 100 delicious recipes that come directly from North Shore chefs. Ranging from simple everyday family meals to challenging cuisine that will push you to the boundaries of your culinary repertoire, the decadent, hearty, and nutritious range of featured recipes offers something for every palate and skill level.
Wouldn't this make an awesome holiday gift?
Want to win the ultimate North Shore foodie prize? Join us for the Instagram Loop Giveaway, running now until November 19th. Follow along here: Instagram Loop Giveaway