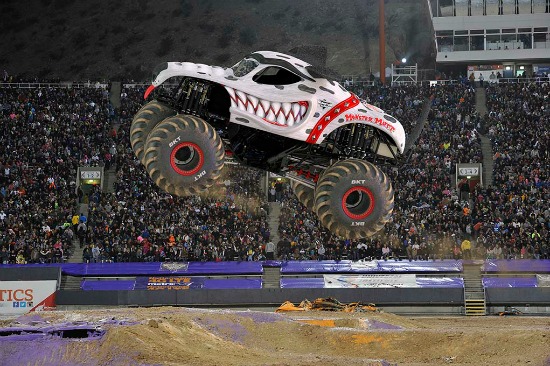 I'll confess, each year when I see that the Monster Jam® event is coming to town, I suggest that my husband take my son for a boys night out. Foolishly, the thought of taking the girls hadn't ever crossed my mind.
Not only does Monster Jam® offer fun for the whole family, but it features highly-skilled athletes – some of which happen to be talented women, going head-to-head in adrenaline-pumping, engine-revving races.
This year, Canadian contender Cynthia Gauthier will be behind the wheel of the Mutt Dalmatian monster truck. Raised by a mechanic father, Gauthier grew up with a passion for anything with an engine, competing in dirt bike races, and eventually joining the Bad Habit team that went on to the Monster Jam World Finals in 2015. With a female Canadian contender in the race this year, now's a better time than ever to show your girls that extreme sports aren't just for boys!
Enter below for a chance to win a pair of tickets to the opening night of the Monster Jam® Triple Threat Series™, coming to the Pacific Coliseum in Vancouver on April 7th at 7pm ($100 value):
Contest runs from Monday, March 20th to Sunday, March 26th. Entrants must be able to attend the April 7th event at 7pm in Vancouver, BC. Winners will be contacted by email once the contest closes. 
Click on the image below to learn more about what you can expect from this rip-roaring event!