The baby products industry is so jam-packed with fancy-pants  thingamabobs and whatchamacallits that it's becoming difficult for parents-to-be to determine what they will actually need for the arrival of their new little ones, versus the on-trend nice-to-haves of modern society.
Having done this new baby thing a time or two, I thought I would share with you my quick list of the only things you'll need to buy before bringing home baby (and a few of the things that can wait until later).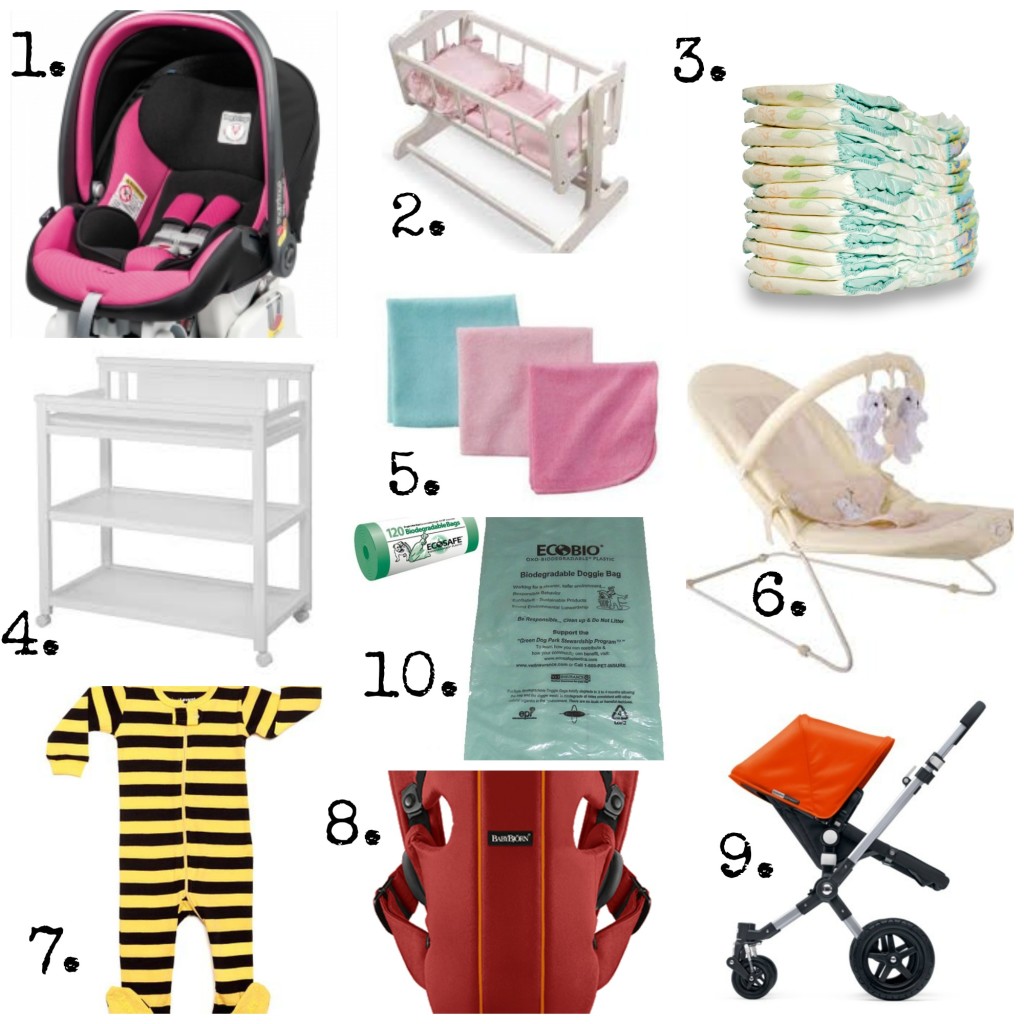 1) A Car Seat. You're going to need to bring your baby home in something, so a rear-facing car seat should be at the top of your list of must-haves (unless of course you don't have a car, in which case, see #8 & #9). There are about a million different models out there, but I've found this one to be my favourite (or I'm currently using this one for baby #3 which I also like). These seats are both lighter than most (which is important because for the first few months you'll be carrying them on your forearm like a purse), and they are quite compact (especially important if you have a small car or other small children). I've also found that they are adaptable to most strollers.
2) A Bassinet/Cradle. Because babies sleep. A lot. If you have the space, I would suggest starting with a little bassinet or cradle. In the first few months your new little baby will need you at least a few times throughout the night, and having baby nearby makes those midnight feedings a little more bearable. A smaller bassinet is also more mobile so you can move your baby's sleep locations more conveniently. Of course, some parents co-sleep, or start putting baby in a full-sized crib right from day 1, so this one can be left up to your own personal preference.
3) Diapers. Whether you like it or not, babies also pee and poop. A lot. So you're going to need something to catch it all. Whether you plan on using disposables or cloth diapers, you're going to need to stock up. Babies do the deed an average of 10-14 times a day, so plan ahead my friends! You will not want to run out to the store for another pack of diapers in the first few days of bringing home baby.
4) Change Table/Surface. With all of those diaper changes, you're going to need somewhere to actually change the baby. I like having a full change table with space underneath to store the supplies (wipes, diapers, creams, powders, cloths, etc), but I know many people who use dressers with change pads on top and this works too – you can just buy a basket or install some shelves above for the extras.
5) Wash Cloths/Blankets. I've grouped these together because basically you're going to need some fabrics to wash, swaddle, and block your baby (block = defence against unwanted explosions, i.e.: pukes, spit ups and blow outs). You will need a lot of these too.
6) A Vibrating Chair. Some parents may challenge me on this one, but with all 3 of my children I found this to be a godsend. Because as much as you love to cuddle your baby, your arms will get tired and you'll have other things to do. And while the dream is to have a baby who will self-sooth and fall asleep in their cradles on their own, this is rarely the case. I used my vibrating chair constantly – to keep baby happy while I did chores (easy to move from room-to-room), and many times to coo baby to sleep when rocking in my arms just wouldn't do.
7) Sleepers. While there are endless drool-worthy baby outfits out there (hello adorable sneakers, bomber jackets, tutus, and baby denim!), you'll really only need a sizeable collection of onesie sleepers (and zippers are a MUST). Cutesy accessories can come later, but for the first few months, the goal is to keep baby warm and cozy, and to regain your sanity from a long slew of sleepless nights.
8) A Baby Carrier. Some parents prefer this one, but I've always been happy with this one. There are a TON of choices out there, and the one you choose will really come down to personal preference, but you will need one if you ever plan on leaving the house or using your hands again.
9) A Stroller. Babies get heavy so you're going to want one of these too. Especially if you have a dog, need to go to the store, or pretty much have to go anywhere that requires you to walk for longer periods of time. Not only are they great for transporting your kids, but you can put stuff in them when you're shopping which is handy! My favourite strollers of all time are these ones (I was spoiled with baby #1 and received one as a gift from a group of family members – pricey, but THE BEST). Due to tighter budgets with baby #3, I now have this one which has been pretty good so far.
10) Poo Bags. This one might sound a little strange, but I'm telling you, you DO NOT NEED a diaper genie. The thick poo bags that were designed for picking up after your dog are perfect – especially these ones which are biodegradable, and totally affordable. We put the poopy dipes in the bags, tie them tightly, and toss them in our regular garbage can. No stink. I found the diaper genie to be a pain in the arse to change the bags, and it was often difficult to find the refills (not to mention pricey!). If you're using cloth diapers, it's still nice to keep these on hand for dirty baby wipes or blowouts when you're out and about.
There are of course other things you'll need as well, but you don't need to buy it all right away! Here are some things that you can save for later.
Save for later:
– full-sized crib
– Bumbo chair
– bottles
– soothers
– high chair
– exersaucer
– toys
– clothes (beyond sleepers) & shoes
– baby foods & accessories (dishes)
If you have friends with kids, ask them if they have any of the items on your list before you go shopping, or add them to your wish list for baby shower gifts. Congratulations on your new babies to come, and good luck!
 Fellow parents, have I missed anything?