I'm embarrassed to admit that while I loved barre fitness, and was convinced that I had finally found a fitness regime that worked for me, it's been almost a year since my last class. I really did enjoy it, but something was missing for me.
This Summer, I decided to give my daughter the independence to choose her own extracurricular activity, and she opted to replace her ballet dancing with tap classes. I was proud of her for deciding to try something new, but a part of me felt disappointed. That is, until I realized that my desire for her to stick with ballet, was because I had never really lost my passion for the art. I realized that I was trying to live vicariously through my daughter's dancing adventures – that I was being selfish.
Growing up, dancing was my life. From ages 3-16, I was immersed in the culture of dance. Engaged in ballet, jazz, and tap classes for over 10 hours a week, I was fully committed to my dreams of becoming a professional dancer. I danced in a professional dance company, and my performing even led to my meeting Princess Diana.
But life happened. My passion for dance was dimmed by my desire to fit in with the high school crowd, and my commitment to the art form was replaced by my commitment to friends, parties, and boys.
Back to the Barre
This month, as I escorted my daughter to her first tap class, a sign on the wall of the dance school's office caught my eye. They were offering adult ballet classes in the evenings. My heart raced with excitement as I immediately registered myself, nervous that my fear would prevent me from committing if I waited even a minute to register.
My first class was a breath of fresh air. My experiences with ballet classes in the past had included strict dance instructors, leotards and pink tights. Slicked buns and quiet classical piano music.
This class was filled with moms of all ages, wearing yoga pants and loose-fitting t-shirts. Some, like me, were rediscovering their passion for dance after years without training. Others had never before danced, and were there to try something new. There was no judging, no competition, just a group of women, looking to get some exercise, rediscover their love for dance, and connect.
The class started with some warm-up exercises at the barre, followed by some floor work, and short choreographed sequences. It was the perfect mix of exercise and fun, and I will definitely be sticking to it.
For those of you who are interested in trying out ballet, either for the first time, or to reclaim your love for dance. Here are my top 5 reasons to give it a try.
5 Reasons to Take Adult Ballet Classes
1) Natalie Portman's Black Swan Ballet Workout.  Hello beautiful long and lean body transformation. While some of you may prefer to bulk up and enhance your muscles with high-impact workouts, ballet will give you a long and lean physique.
2) Reclaim your self confidence. While it can be intimidating at first, learning dance sequences and performing them in front of your dance class peers will renew your self-confidence.
3) Stand tall. When I was a dancer, I was constantly complimented on my posture. I walked with my shoulders back and my head held high. Since having had children (nursing crouch), and over a decade of desk-hunching office work, my posture now rivals that of The Hunchback of Notre Dame.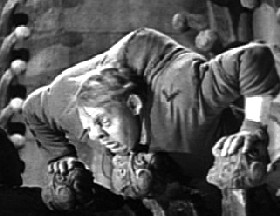 4) Buns and thighs of steel. Nothing strengthens the muscles in your butt, thighs and abs like a series of grand pliés and relevés. It's a full body workout like no other!
5) Get your groove back. Ballet teaches you rhythm, and challenges your mind through the memorization and duplication of dance sequences.
Give it a shot and let me know what you think!