I grew up in a small apartment in Granville Island. No backyard, and definitely no trampoline to call my own.
I had friends who had trampolines in their backyards, and I did everything I could do to have playdates with those friends, just so I could feel the rush of bouncing high into the air – doing bum drops and summersaults as I reached for the sky on each ascent towards the clouds.
When I became a parent, fear and hesitation replaced my enthusiasm for trampolines. Having young children made me privy to the downfalls of trampoline play. Everyone seemed to have a story about a broken leg, an injured knee, a head injury or a chipped tooth that resulted from trampoline falls. I swore I would never get one, no matter how much my children begged and pleaded.
Now that my oldest children are in school, my resistance has started to subside, replaced with curiosity and a whole lot of research.
One night my husband and I were discussing the options, and came across the Springfree Trampoline. We watched their safety video, and this unique story about how a Springfree trampoline saved a family's house, and thought it sounded like a safe and feasible option for consideration – so we bookmarked their website for future reference.
The next day (no lie), I received an email from my friends at Vancouver Mom. They had partnered with Springfree and were looking for some blog ambassadors to try out the trampolines and share their experiences. I applied and was selected as the North Vancouver ambassador (squee!), and my large oval trampoline was delivered and set up shortly afterwards.
Why did it take me so long to get a trampoline?
After hearing a slew of trampoline horror stories, I was afraid of the possible accidents that could occur. I didn't want to put my children in harm's way, and didn't want to be held liable if their friends were to get hurt on my watch.
I'm still a little nervous about adding a trampoline to my family, but I feel safe knowing that the construction of the Springfree trampoline is far more advanced and safety-tested than the net-free, broken spring bouncers I used to play on when I was a kid.
Are they as safe as they say?
I guess I won't know until I try it, and today, we tested it out for our very first time.
This afternoon two Springfree employees came to my home, and manually set up our brand new tramp. After each adult bounce-checked and gave it their thumbs-up of approval, I zoomed off to school to pick up my kids – I couldn't wait to reveal the surprise that waiting for them at home! Here's how it went:
They jumped on that trampoline until the sun set. Happy kids = happy mom.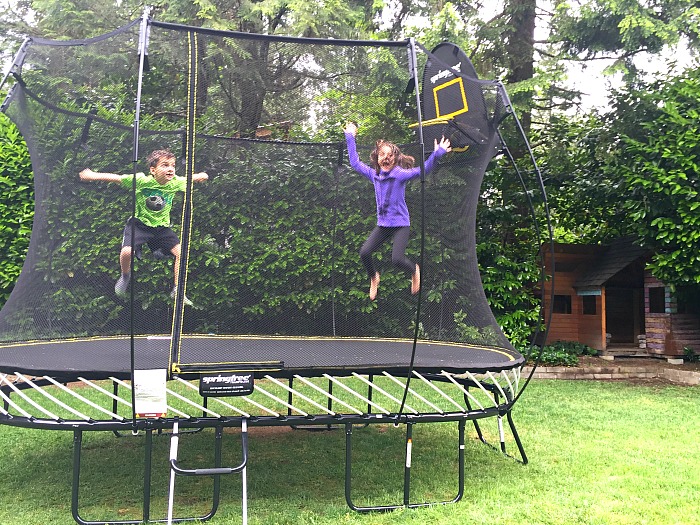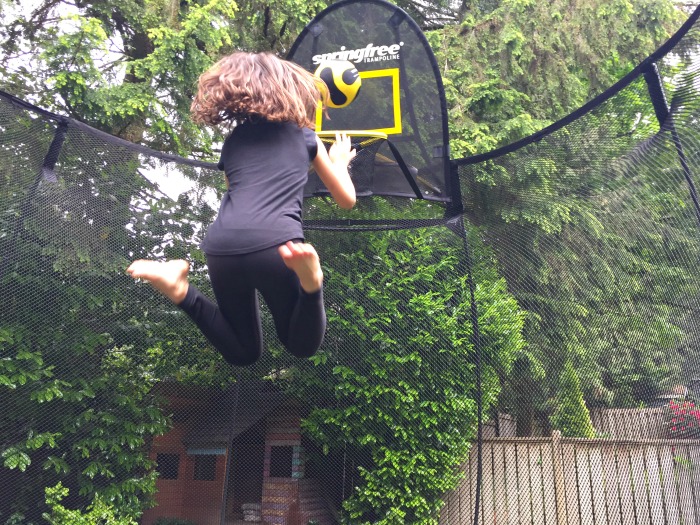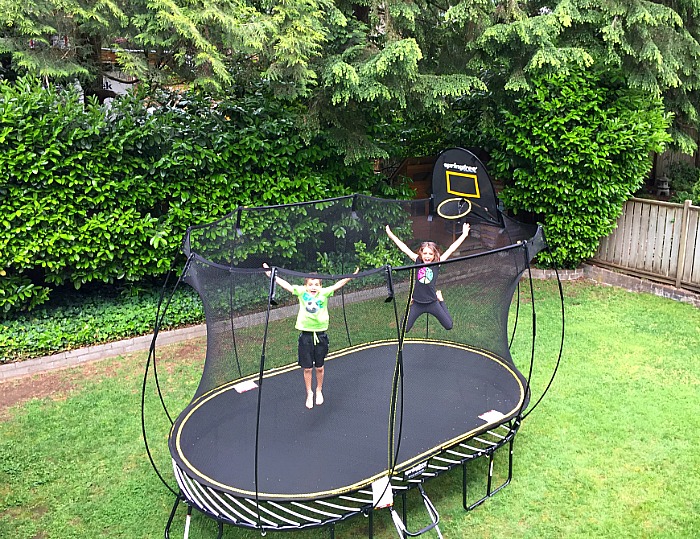 I'll keep you posted on how it goes and will share my honest feedback on our Springfree trampoline along the way. I welcome any questions you may have as we embark on this jumping journey, and look forward to a whole lot of outdoor fun on our new toy this Summer!