Usually when I'm asked to bring a salad to a dinner party, my initial reaction is to open a bag of my go-to Sweet Kale Salad Mix (seriously, we eat this salad mix at least 3 times a week), but this weekend, I decided to try something new.
Last week, I was invited to a media event for BC Blueberries, and as always, my tastebuds were pleasantly surprised by the uniquely delicious recipes that were shared with the guests. Menu teasers included chicken & beef skewers doused in spicy blueberry marmalade, crisp pork belly scoops with spiced blueberries, and blueberry caipirinha (quite possibly the most delicious Summer bevvy to have ever touch my lips!). As a parting gift, each guest received an array of recipe cards, each featuring unexpected blueberry-laden recipes to try at home.
The Blueberry Watermelon Cucumber and Feta Salad recipe immediately caught my eye – the perfect side for a hot Summer evening BBQ. It was really easy to make, and absolutely delicious, so I thought I would share it with you!
---
BLUEBERRY WATERMELON CUCUMBER AND FETA SALAD 
Ingredients:
1 Tbsp (15 ml) vegetable oil
1 Tbsp (15 ml) lime juice, freshly squeezed
¼ tsp (1.25 ml) fresh ground pepper
⅛ tsp (0.5 ml) salt
1 cup (150 g) B.C. blueberries, fresh or frozen
1 cup (150 g) watermelon, diced
1 cup (125 g) cucumber, seeds removed and sliced
½ cup (75 g) feta cheese, diced or crumbled
1 Tbsp (15 ml) fresh mint, finely chopped
Directions:
In a large bowl whisk together the oil, lime juice, pepper and salt.
Add the salad ingredients to the vinaigrette, toss and serve chilled.
Bee's Take:
I quadrupled the quantities as I was making the salad for a group of 7
I served the salad with some extra vinaigrette on the side in case anyone wanted to add a bit more
I might try springing some roasted nuts on top next time for a little added crunch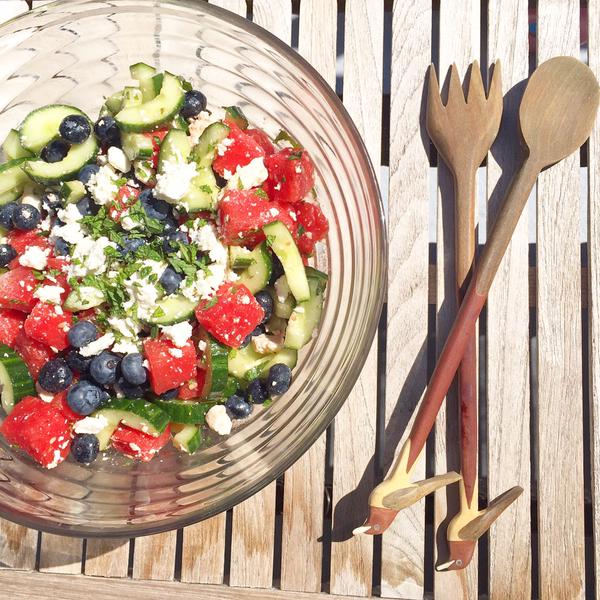 This recipe will definitely frequent my Summer dinner (and lunch) repertoire – it's cool, delicious, and with the sweetness of the watermelon and blueberries, the kids loved it too!