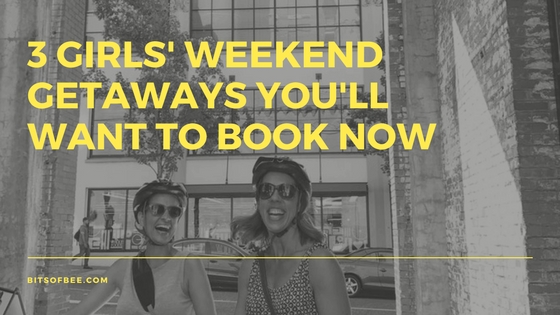 If you're anything like me, you often daydream of packing up and heading out of town for a weekend getaway with your best girls. And while it's easy to envision lounging by a pool, settling in at a spa, or living it up through laughter-induced late nights with your ladies, the biggest challenge is always coming up with the right destination for your decampment.
Somewhere far enough that it feels like a real vacation, but not too far that it's going to cost a fortune. Somewhere a bit warmer but easily accessible for a weekend jaunt. And of course, somewhere that offers lots of great food and drink options, things to see and do, and cozy accommodations to suit your needs.
Well, you're in luck, I've got 3 pre-planned trips all ready to go – all you have to do is gather your   and book the best one!
1) Wine Down With A Girls' Weekend Getaway To McMinnville
With city cellars and valley vineyards, McMinnville is the perfect weekend destination for wine enthusiasts.
McMinnville, Oregon is a 1900s throwback town bursting with personality—and great Pinot. Nestled in the heart of Oregon wine country, McMinnville is home to over 35,000 warmhearted characters from all walks of life, and over 200 award-winning wineries that line the rolling hills of the agriculturally rich region.
Here's how to enjoy a weekend in McMinnville, Oregon as you tour through the town's top wineries and favourite food spots.
2) Enjoy A Girls' Weekend Getaway Filled With Pedals, Pints, And Pampering In Portland
Oozing with the hippest boutique hotels, craft-beer spots, dining destinations and zen spas, Portland is the perfect place to enjoy a weekend getaway with your best buds.
I've got the best places to stay, play, dine and spa in Oregon's most esteemed escape – an easily accessible getaway destination for a weekend with the girls.
Here how to enjoy an epic weekend of pedals, pints, and pampering in Portland, Oregon.
3) Book A Girls' Weekend Getaway Exploring Your Way Through San Diego In 3 Days
Rendezvous to sunny San Diego to enjoy enticing Pacific eats, oceanside adventures and beyond beautiful beaches!
Winter in San Diego is warm and welcoming—where the sun shines approximately 266 days a year, thanks to the mild Mediterranean climate of "America's Finest City."
With its emerging culinary scene, endless list of attractions, and closer-than-you-think proximity to Vancouver, San Diego is the perfect place to sneak off for a sunny weekend getaway with the girls.
Here's how to make the most of your three-day stay in sunny San Diego.