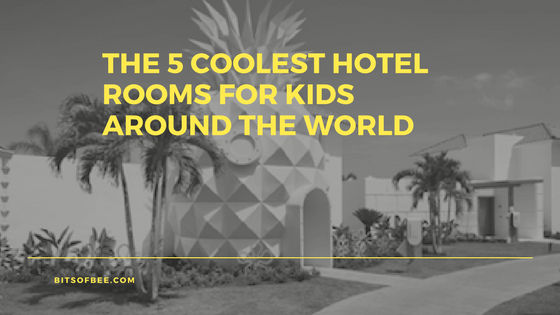 Looking to treat your tiny traveler to a unique and unforgettable vacation? If you want to win this year's award for best parent, book a stay at one of the world's coolest hotel rooms for kids, located in incredible destinations such as the Dominican Republic, New York and London. From a pineapple under the sea to a room filled with witchcraft and wizardry, five hotels around the world have created special spaces to entertain and delight kids (and your inner child).
1) The Pineapple in Punta Cana
The Pineapple at Nickelodeon Hotels & Resorts Punta Cana – Inspired by the famous pineapple under the sea, famed home to SpongeBob SquarePants, this sumptuous one-of-a-kind villa is the signature dwelling at Nickelodeon Hotels & Resorts Punta Cana – the world's first and only Pineapple. With 2,292 square feet of incredible indoor and outdoor living areas, including a garden, patio, signature infinity pool, and private butler to cater to every whim, the 2 bedroom / 3 bath villa is a palatial paradise in the Dominican Republic.
Rates at the Pineapple start at $3,800 per night, including the Gourmet Inclusive Experience of all gourmet meals served a la carte, premium alcoholic and non-alcoholic beverages, 24-hour room service and full-service concierge.
Related: Where To Enjoy A Laid-Back Luxury Vacation With Kids 
2) The Eloise Suite in New York
The Eloise Suite at The Plaza New York – Outrageous pink and black décor by Betsy Johnson adorn the walls of the 625 sq. ft. suite on the "tippy-top floor" of the Plaza Hotel. Named for The Plaza's famous resident in Kay Thompson's Eloise books, the room features everything Eloise. From Eloise-themed tea for two at The Palm Court to Eloise-approved books and toys, kids will be absolutely delighted by the over-the-top suite that offers guest a day in life of the precocious little heroine.
3) The UFO in Sweden
The UFO at the Treehotel in Harads, Sweden – Kids are immediately transported to space in this out-of-this-world treehouse in the woods. Fashioned as a UFO, the intergalactic suite is built for two adults and three children, with a living room, in-room bathroom and two large separate beds. 1..2..3…ready for takeoff to every child's dream!
4) Wizard Chambers in London
The Wizard Chambers at the Georgian House Hotel – Immerse your child in magic and marvel in The Wizard Chamber, created for Harry Potter aficionados. Concealed behind a bookcase door, the Gothic décor evokes the magical style of Hogwarts lodgings. Each room features faux castle details such as stained glass windows, stone walls, cauldrons, four-poster beds hung with velvet curtains and an abundance of other curious artifacts.
5) Legoland Retreat in Florida
The Legoland Beach Retreat in Winter Haven, Florida – At the Legoland Beach Retreat, guests have the opportunity of staying in their own beach-themed bungalow decorated with whimsical LEGO® décor inside and out. Designed to look like it's made of giant Lego bricks, each bungalow room can sleep up to five people with one king-sized bed for parents and a smaller nook that has bunk beds for the kids. In addition, each bungalow is centered around an expansive outdoor play area, all within view of the bungalows' shaded patios, where parents can put their feet up, kick back and relax while kids play.
Do you have any other cool hotel rooms for kids that you think should be added to this list? Share your thoughts in the comments below!