While February is technically the shortest month of the year, I find it drags on – it's a lull between two seasons. The excitement of Christmas has passed, but the chirping birds and blooming florals of Spring have yet to appear. The days are still fairly short and dark, and the rain falls a bit more frequently. And with the wet and dreary days, I turn into a bit of a recluse. I want to curl up, eat comfort food, and wrap myself in a blanket on the couch until Spring arrives.
And while I would love to order in seven days a week and hunker down until this dull month comes to a close, that's simply not an option for me – so I go for the next best thing: I rotate through a repertoire of easy, delicious, comfort food recipes to warm up my family during these final months of Winter.
The Easy Chicken & Broccoli Divan was so simple to make, it's no wonder "Easy" is its first name. This Cook With Campbell's recipe is a delicious, creamy comfort food dish that will have your whole family asking for more (both of my picky eaters asked for seconds – a dream come true for this mama!).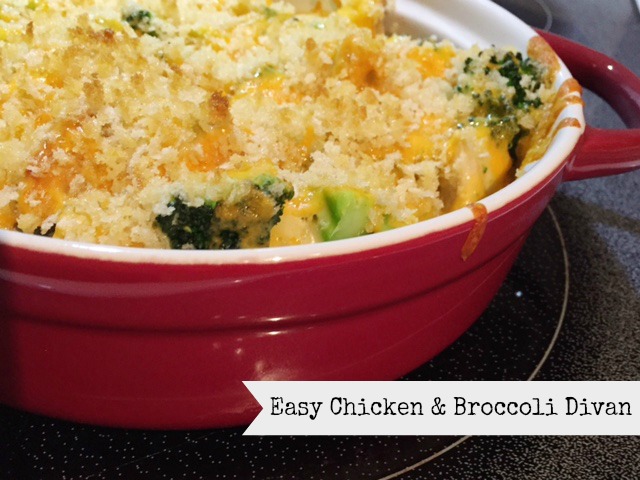 Ingredients:
| | |
| --- | --- |
| 3 cups (750 mL) | hot cooked broccoli florets |
| 2 cups (500 mL) | cubed, cooked, skinless chicken breast |
| 1 can (284 mL) | CAMPBELL'S® Condensed Low Fat Cream of Broccoli Soup |
| 1/3 cup (75 mL) | 1% milk |
| 1/2 cup (125 mL) | shredded light Cheddar cheese |
| 2 tbsp (30 mL) | dry bread crumbs |
| 1 tsp (5 mL) | butter or margarine, melt |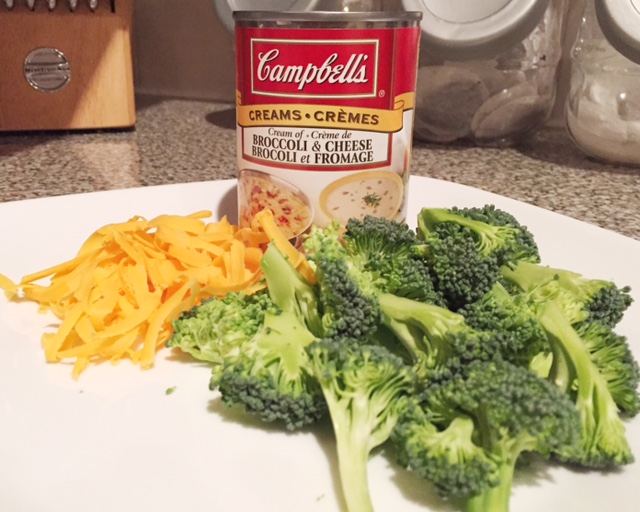 Directions:
1. Arrange broccoli and chicken in 1.5 qt (1.5 L) baking dish.
2. Pour mixture of soup and milk over broccoli and chicken. Sprinkle with cheese. Top with mixture of bread crumbs and butter.
3. Bake at 425°F (220°C) until heated through – about 25 minutes.
Bee's Take:
– sauté the chicken with a little seasoning salt, ground pepper and garlic powder to add extra flavour.
– you can never have too much cheese!
– serve with sticky rice (either on top, or as a side).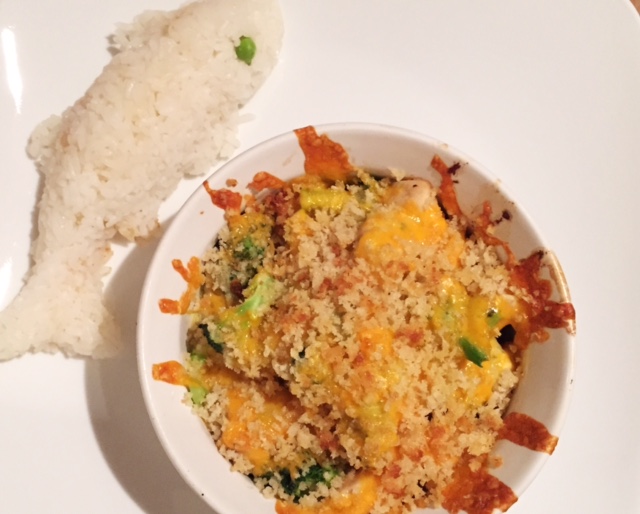 *****
Disclosure: I am part of the Campbell Company of Canada Ambassador program with Mom Central Canada and I receive special perks as part of my affiliation with this group. The opinions on this blog are my own.