Fact: teething bites (pun very much intended).
I'm on my third tooth-bearing child, and let me tell you, it doesn't get any easier. No matter how much practice you get, those baby chiclets will sneak up on you, and hit you like a slap in the face. One minute your baby is sleeping well and melting your heart with sweet little smiles and giggles, and the next, the pterodactyl from within unleashes its unruly wails as those tiny little white nuggets push their way through to the surface of your poor baby's gums.
Sleepless nights, soaked-through tops, and the biting (oh the biting!). Unfortunately, teething is inevitable. We have to let nature take its course – it's just not optional. What is optional though, is how we deal with the disastrous childhood milestone.
As parents we have two choices: we can grin and bear it – suffer through the raw pain of parenting a teething toddler for the months (sometimes years!) of agony – or, we can numb the pain for our poor little biters by providing them with the right supplies they need to dull the distress.
Cue: Lou Lou Lollipop Teething Necklaces. Unlike many teething necklaces I've seen on the market, these cute little silicon-based gems come in a wide range of modern, wearable, hip designs that can be worn without looking "like a mom" when out and about with your little drooler.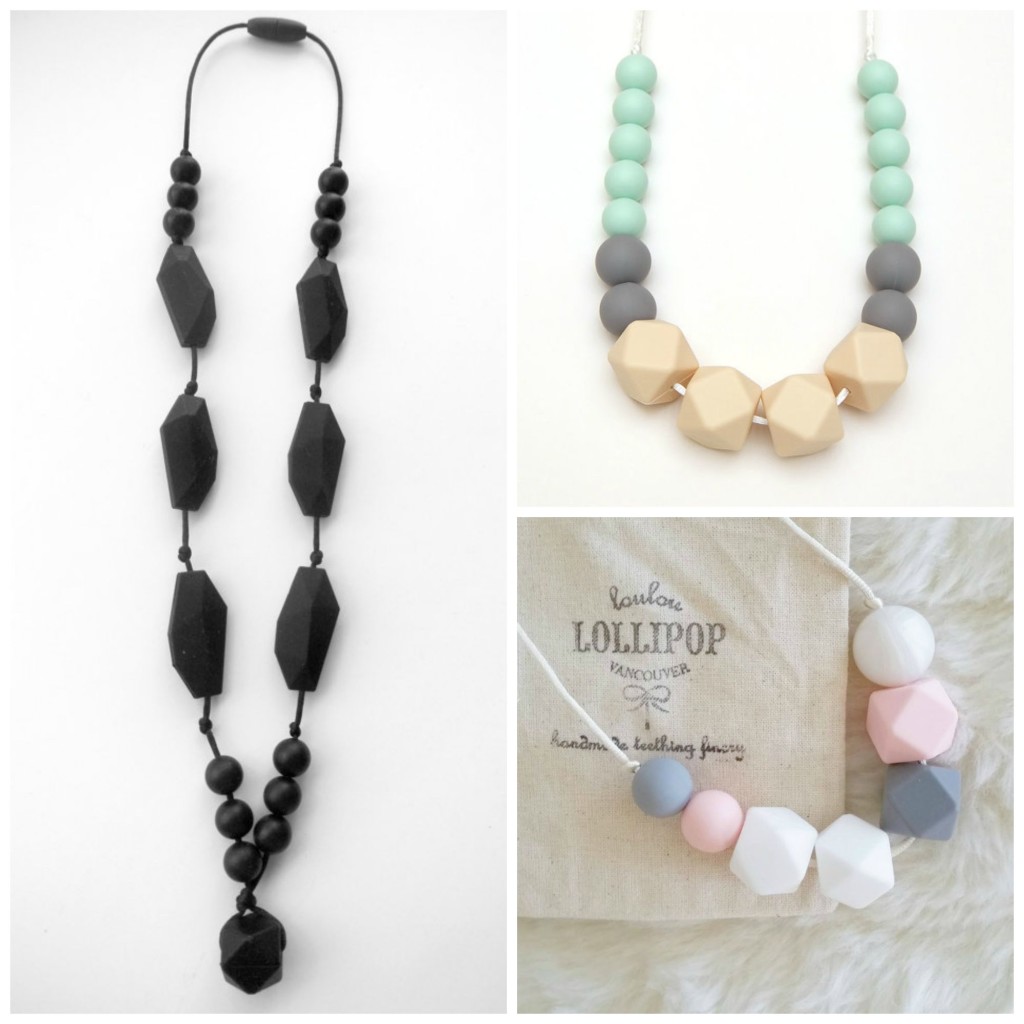 I thought so many of their designs were cute and totally wearable (I love the black one above, it looks like it's made of wood!), but I wanted something unique that would fit with my brand/personality, so the lovely ladies of LouLou Lollipop Finery made me this beautiful custom set for my little teether and I: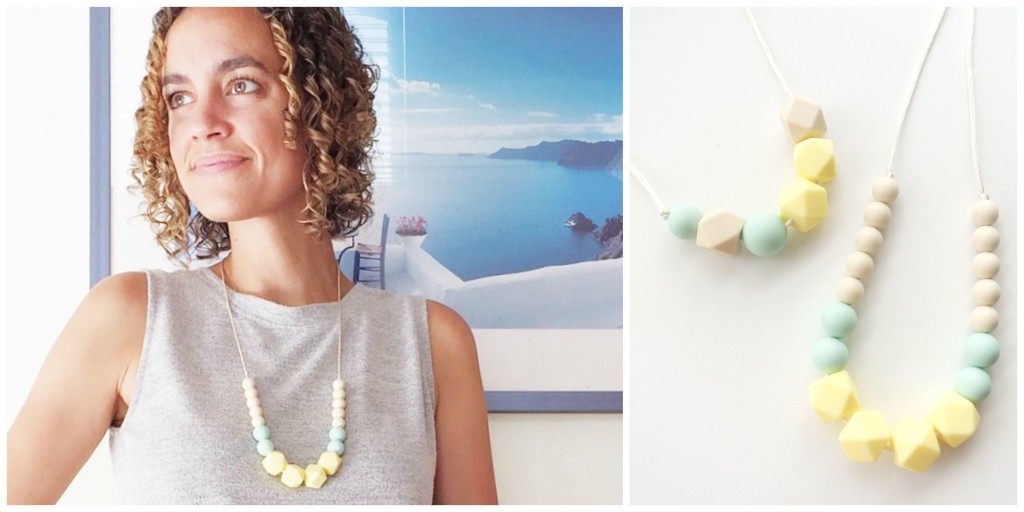 I love the colours, and my oldest daughter likes to wear the larger necklace sometimes too so she can "twin" with her baby sister.
My littlest loves to prance around with her necklace in hand and take a little nibble as she plays. It's adorable, and it keeps her drooly gums preoccupied which is of course a big win for me.
Not only did I get my own custom set, but I'm giving away one of these lovely necklaces to one of my readers!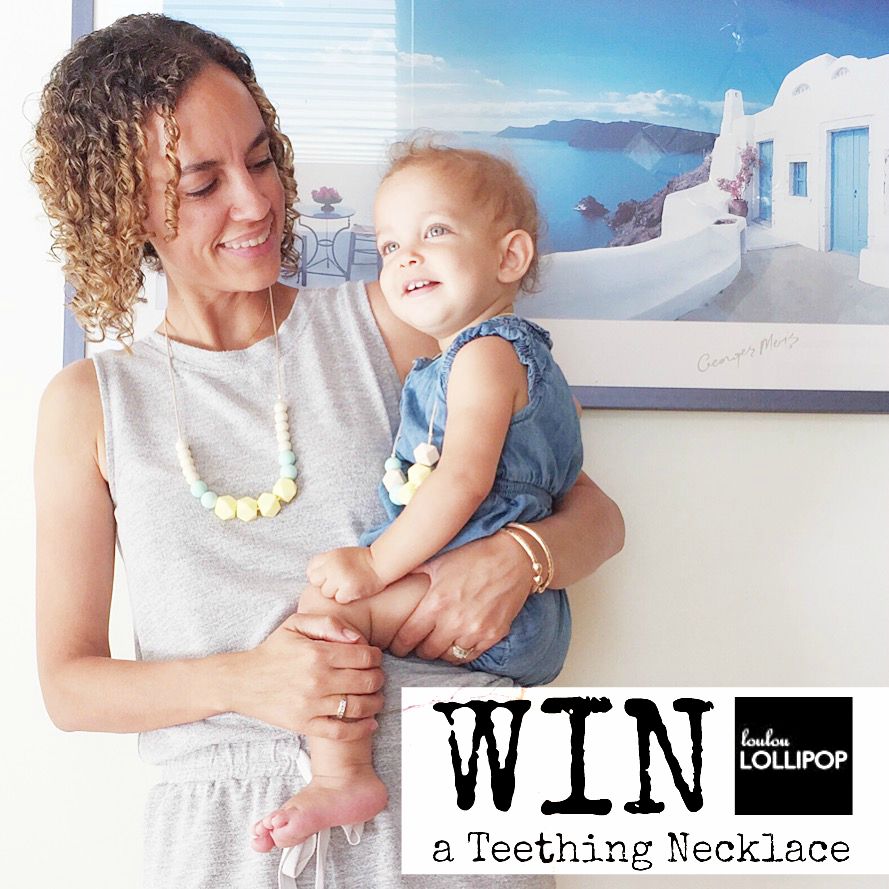 Enter now for a chance to WIN your very own LouLou Lollipop teething necklace – in the design of your choice ($30 value)! Check out their site to see more styles, and enter below for your chance to win.
a Rafflecopter giveaway

---
About LouLou Lollipop Finery:
Lou Lou Lollipop Finery is a premium brand of modern, hip silicone accessories designed and handmade locally in Vancouver by two sisters, Eleanor and Angel.
Product features include:
* FDA approved high quality food grade silicone
* Made with non-toxic materials (no- BPA, PVC, phthalate, latex, lead, cadmium, or heavy metals)
* Features breakaway safety clasp as an added safety measure
* Silicone is anti-microbial; does not harbour bacteria or mold

Note: LouLou Lollipop teething jewelry is intended to be worn by adults. It is NOT a toy. It should not be worn by babies/children or left with any child unattended. Adult supervision is always required.
---