My closest friends and family roll their eyes at me whenever I share a story and say that it 'happened in grade 9'. They claim that everything I talk about 'happened in grade 9'. They mock me, but it really was a monumental time in my teen years.
Grade 9 was the year that I fell into a full-blown stage of teen angst. That stage when you hate your parents, your boy crush doesn't know you exist, your friends are your world, and your self confidence is at an all-time low. You're consumed by how much your life sucks, and how no one understands you. You'd do anything to fit in, and you long for nothing more than to find yourself.
Grade 9 was a long long time ago for me now, but some of these quotes, shows, songs and moments, will stick with me forever. Because these moments – these epic quotes from my angsty teen years – bring me right back to grade 9. And they remind me of my 'so called life' as a teen.
My So Called Life
Long before she played Carrie in Homeland, Claire Danes epitomized my teen self in what will always remain my favourite 90s show of all time – My So Called Life. Swoon-worthy scenes of Jordan Catalano – his perfect coif grazing the brow of his crystal blue eyes as he pulled on Angela's heartstrings (and ours). One does not get over Jordan Catalano. Not ever.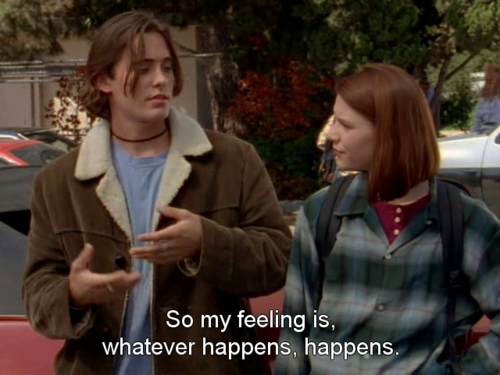 Ugh, she tried to play it so cool in this scene. Poor, poor girl.
The Cranberries
To this day, whenever I hear an old song by The Cranberries, I am immediately transported to my best friend's bedroom, where we used to sit together and cry as we sang along to the angsty lyrics of songs like Linger and Zombie.
I'm sure our parents just loved our off-key whining at all hours of the night.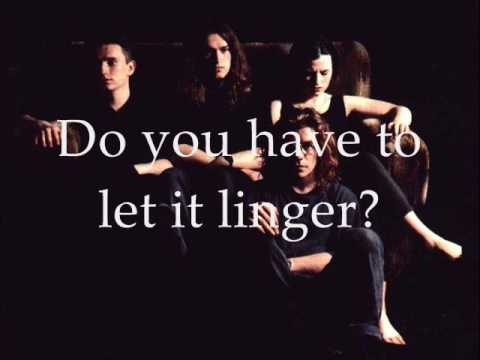 Pulp Fiction
The entire soundtrack from Pulp Fiction brings me back to the early 90s – everyone had the soundtrack – and I played this CD on repeat (yes, I said CD). Tarantino was a movie producing superstar – responsible for not only Pulp Fiction, but also Reservoir Dogs, and Natural Born Killers. There are so many great quotes that I could pull from this movie, but this one summarizes the teen rebel that I thought I was at the time.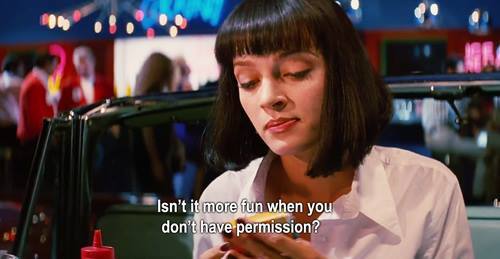 Clueless
While I thought I knew everything, I was completely and utterly clueless. And this quote was basically the worst insult you could possibly give to a clueless, emotional, angsty teenaged girl like me at the time.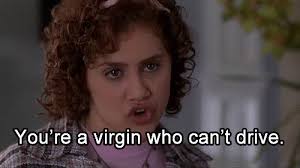 Reality Bites
Winona Ryder pretty much owned the 90s.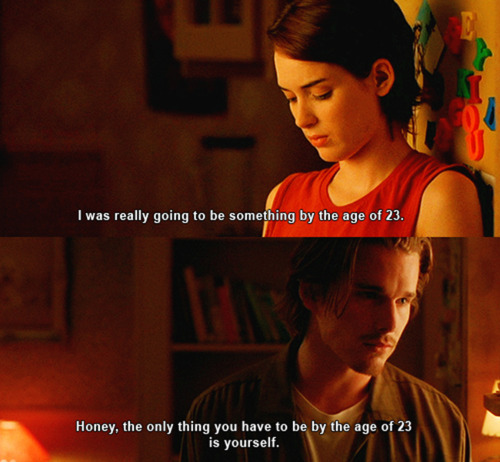 And so did this movie.
Lisa Loeb
That little black dress, those thick-rimmed glasses and those lyrics! Nothing got me through my make-believe heart break like Lisa's words in her chart-topping hit Stay.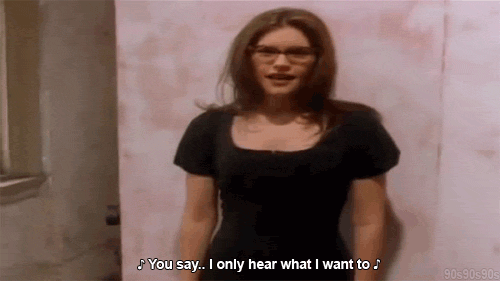 90210
The real Beverly Hills 90210. So many epic scenes and memorable moments, but none like this one. My best friend and I still reenact this scene from time to time.
Wait for it…
Brenda: "I was always taught that if it looks like a duck, and walks like a duck.."
Kelly: "Go to hell!" (storms out)
EPIC!
Do you have any epic shows, songs, scenes or quotes from your teen years that you want to share?