This year's Leading Moms event is coming up on September 26th and I couldn't be more excited! My first experience with this inspiring and entertaining event was in 2012 when I attended Leading Moms as an event ambassador. I was introduced to a community of extraordinary and inspiring women from all walks of life, and left the event feeling invigorated and connected.
Last year I was on the organizing team for Leading Moms 2013 which was focused on the theme of "the importance of play". I had a blast connecting with amazing women such as Anna Rice, Badminton Olympian, and Kelsey Ramsden, Profit W100 Winner. Through inspiring stories, anecdotes, musical performances and a fashion show, we reconnected with our inner child and were reminded of the importance of play in everyday life. For a recap of last year's event, check out this short video:

Leading Moms 2014, hosted by VancouverMom.ca, Entrepreneur Mom Now and JellyBeen, will be another inspiring experience. The event boasts an all-star speaker line-up, including veteran broadcaster Tamara Taggart and philanthropist Andrea Thomas Hill. You'll hear about personal journeys in motherhood through a mix of performance, video and intimate talks delivered straight from the heart, and free childcare will be available for little ones in tow.
I think this year's event will outdo the rest, with the introduction of The 2014 Leading Mom Award, a great new venue, and a lineup of speakers who will focus on the topic of "inspiration" – a suitable theme for an event that does just so.
Early bird tickets are available until September 9th so buy yours now! Click on the image below for your tickets and to learn more about this amazing event.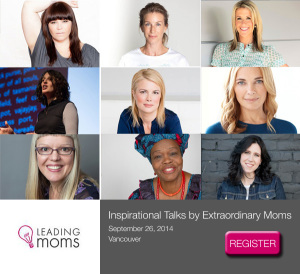 Join the conversation and attend the Twitter party on September 9th at 8pm – a great way to connect with likeminded moms and win some fabulous prizes from the event sponsors. Be sure to follow @leadingmoms on Twitter and join the party following the details below.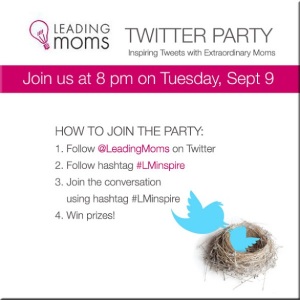 I look forward to seeing you there!