One of our favourite family meals is made using Campbell's soup as a main ingredient, so when I was asked to become a Campbell's Canada Ambassador, I couldn't have been more thrilled! I find it challenging to come up with new, healthy, easy-to-make dinner ideas for my picky family, so I tend to make the same meals week after week. My role as a Campbell's Ambassador is to try some new recipes that are simple to make and easy to love, and I can't wait to add some new ideas to my meal-planning roster!
While taco nights are fun and easy, my family is getting tired of the monotony of the predictable dinner routine, so I thought I'd mix it up a bit and try this ridiculously easy to make Tex Mex Chicken & Rice Bake recipe (which can be found among a slew of tasty meal ideas on the Cook with Campbell's website).
This recipe is SO easy to make, you only need ONE dish, and it takes only THREE steps!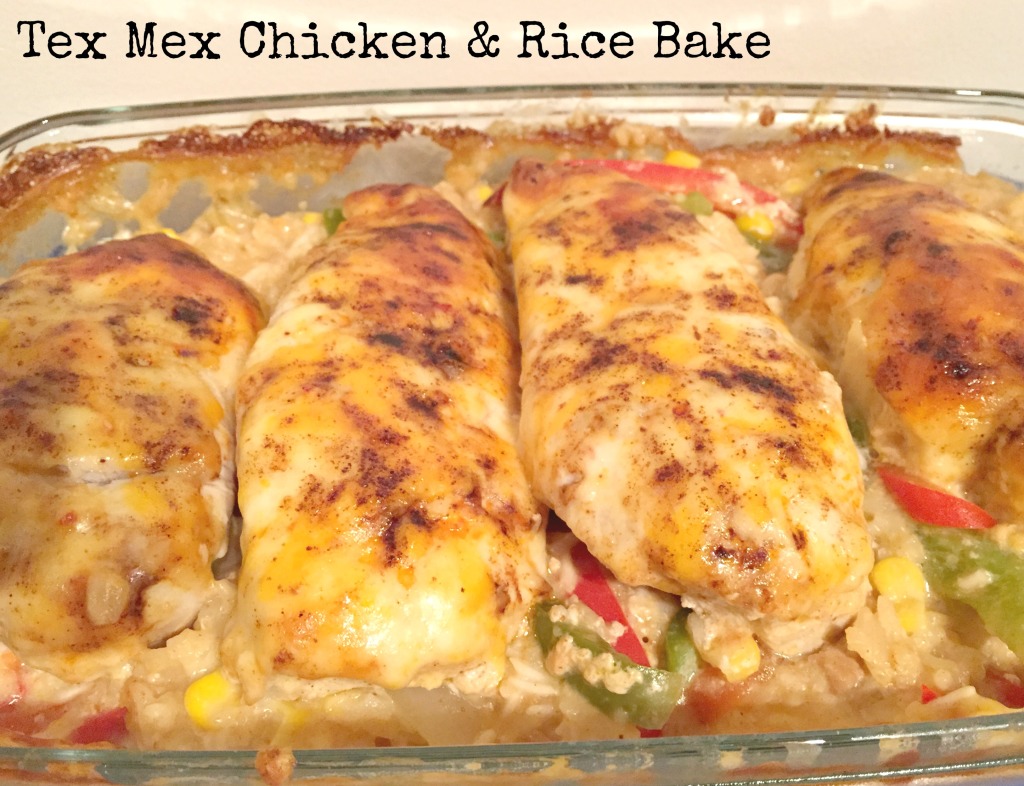 TEX MEX CHICKEN & RICE BAKE
Ingredients:
| | |
| --- | --- |
| 1 can (10 oz/284 mL) | CAMPBELL'S® Condensed Low Fat Cream of Chicken Soup |
| 1 soup can | 1% milk |
| 3/4 (175 mL) cup | uncooked regular long-grain white rice |
| 1 1/2 tsp (7mL) | chili powder |
| 1 1/2 cups (375 mL) | mixture of red and green pepper strips, chopped onion |
| 1/2 cup (125 mL) | frozen corn |
| 4 (about 1 lb/500 g) | boneless, skinless chicken breast halves |
| 1/2 cup (125 mL) | shredded Tex Mex cheese (or Cheddar and Monterey Jack mixture) |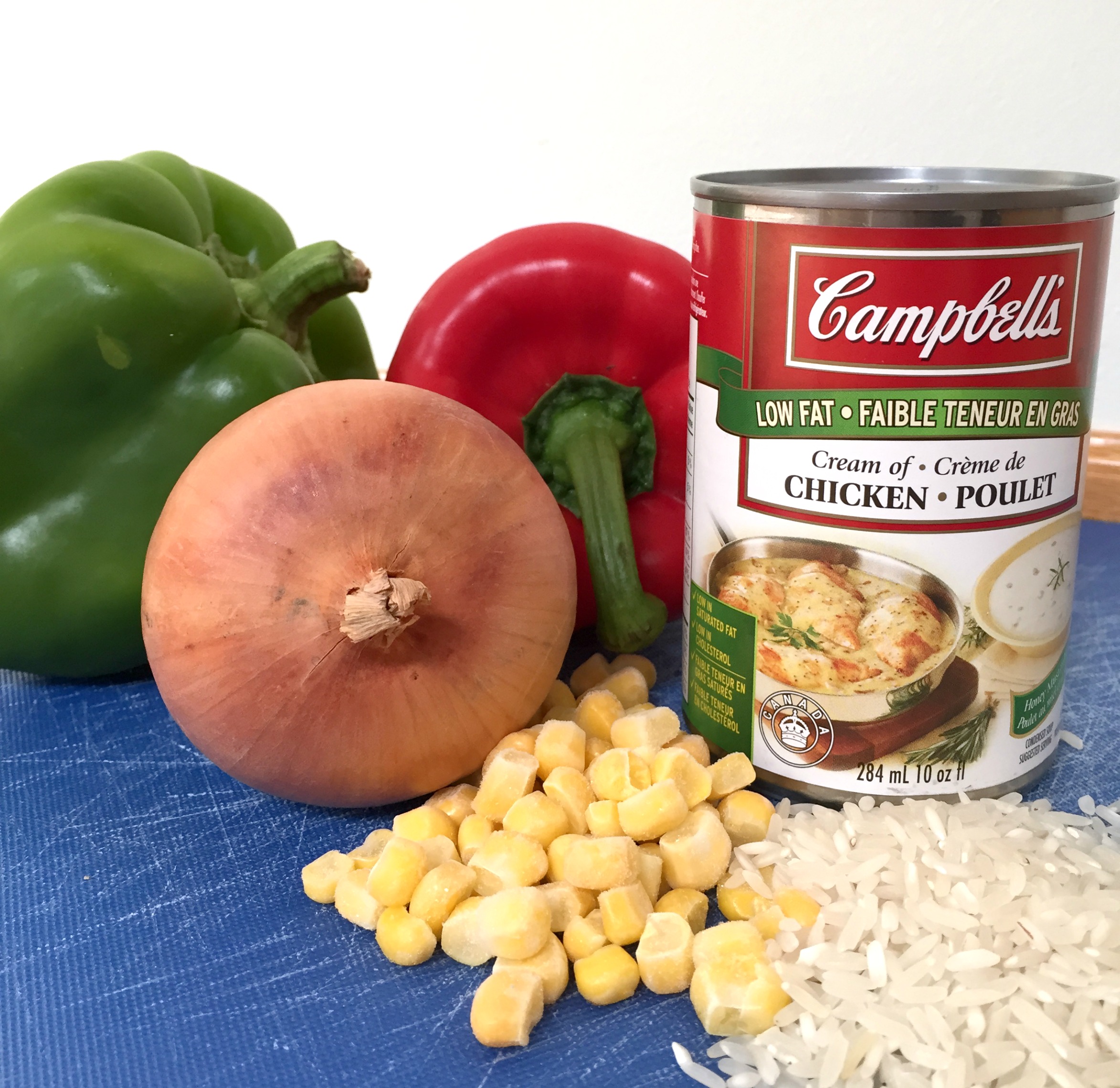 Directions:
1) Mix soup, milk, rice, and chili powder in a shallow baking dish. Spread vegetables evenly on top.
2) Top with chicken. Spread Tex Mex cheese on top, and additional chill powder (if desired). Cover.
3) Bake in oven at 400F (200C) until chicken is cooked through and rice is tender – approximately 45 minutes*. Remove cover and broil until cheese is golden and bubbly – approximately 3 minutes. Remove chicken and stir rice before serving.
* NOTE: I found that an additional 15-20 minutes in the oven makes the rice nice and tender. Time will vary depending on your oven.
***
This recipe was quick to make, simple to follow, and delicious! I plan to heat up the leftovers and wrap them in quesadillas with some guacamole, sour cream and hot sauce for a twist on this Mexican delight. Give it a try and let me know what you think!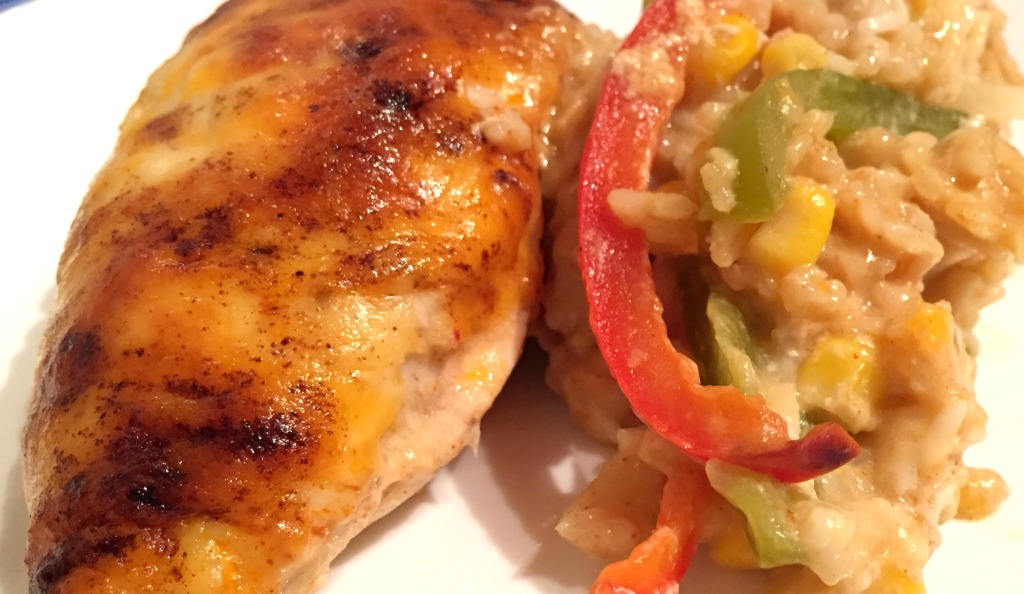 ***
Disclosure: I am part of the Campbell Company of Canada Ambassador program with Mom Central Canada and I receive special perks as part of my affiliation with this group. The opinions on this blog are my own.