When I first heard about the launch of Tgoma – an integrated, interactive, digital gaming system for trampolines, I confess, I was skeptical. I thought: Why would I want to add technology to an outdoor activity that my kids already enjoy?
My kids and I were invited to try out the new Tgoma for Springfree gaming system in person, and after trying it out and talking to the Springfree team about their new partnership with Tgoma, my skepticism was replaced by support.
I quickly realized the motive behind the development of Tgoma – that it wasn't designed to replace active play time with screen time. Instead of fighting technology, Tgoma was about leveraging technology to transform "screen time" from an isolating, sedentary activity, to a healthy, engaging experience.
Essentially, they were adding the trampoline to the technology, not the other way around.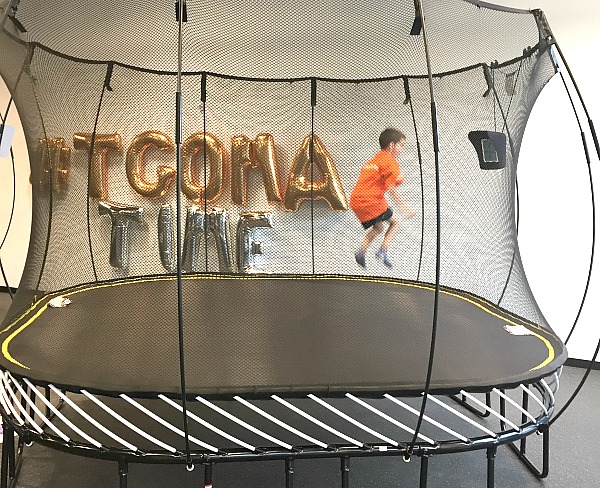 My family is generally an active family. We enjoy spending time outside, and are fortunate to have nature's playground steps from our door. We can play by the river, hike beautiful trails, and visit local parks and beaches – all only minutes from our house.
But according to the ParticipACTION Report Card on Physical Activity for Youth and Children, while children aged 5-17 should be engaging in at least 60 minutes a day of outdoor active play, only 9% of the children in Canada within this age range are meeting this target.
This was a shocking discovery for me as a born-and-raised Canadian.
The truth is, screen time has become an ongoing battle for most parents. Many struggle on a daily basis with monitoring screen time, and encouraging outdoor play in the face of tech-addicted children and teens. Instead of turning that love for technology in a negative experience, why not redirect that screen time to an engaging, interactive outdoor activity that can be enjoyed by the whole family?
I don't see anything wrong with spending the designated allowance of screen time jumping on a trampoline outside instead of slumped solo on the sofa.
Some parents think tech-integrated trampolines are a bad idea. Here are 5 reasons why I beg to differ:
1) It's optional.
Parents don't have to purchase the system, and those who do can easily monitor its use.
2) It's interactive.
The Tgoma system comes with 7 games (including some educational games and games geared towards getting adults active through fitness games – which I love).
3) It provides a new way to play.
How many families do you know who have an unused trampoline in their backyard. The novelty of bouncing can wear off over time, with kids redirecting their time to indoor play. This new system provides something new to get them excited about their trampolines again.
4) It encourages healthy competition.
I've recently started wearing a Fitbit, and what drives me to move more is the "challenge" function. Seeing that my friends are clocking more steps than I am fuels my competitive side and encourages me to move more often. Playing an interactive game on the trampoline can provide that same motivation for kids who like to compete. And there's nothing wrong with a little healthy competition.
5) It gets kids moving – outside.
Kids love trying to stomp out mutant melons, use their imaginations, and even enjoy educational games while bouncing.
Tgoma stands for "Take Gaming Outside And Make it Active." For many parents, it's an innovative solution to an unavoidable problem.
I'll be sharing more thoughts on how to balance play and technology with an expert on educational gaming for kids on Roundhouse Radio tomorrow morning at 10am (PST). Turn your dial to 98.3 FM and follow the conversation.
Related Posts:
Why It Took Me So Long To Get A Trampoline
This Is How We Do Spring In Vancouver
Spring Came Early Thanks To Peekaboo Beans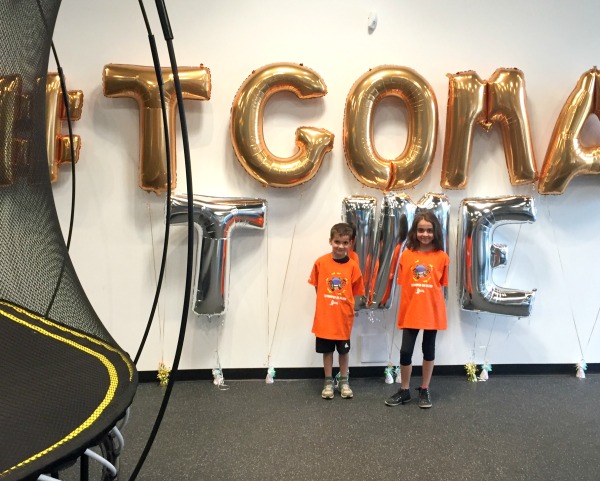 To learn more about Tgoma, watch this short video:
Disclosure: I was not paid to promote Tgoma, nor do I own the gaming system. I am however an ambassador for Springfree Trampoline and a big supporter of play. The thoughts and ideas in this post are my own.