This Summer I will be home alone with all three of my kids. No Summer camps, no work, just Mama Bee plus three little honeys. And while I feel fortunate to have the Summer months off with my little ones this year, I've been dreading the daunting task of filling the approximately 40 weekdays with activities for the kids and I to enjoy. Activities that are affordable, engaging, and fun for all ages. With this task in mind, I've created a bucket list of 20 things for us to do.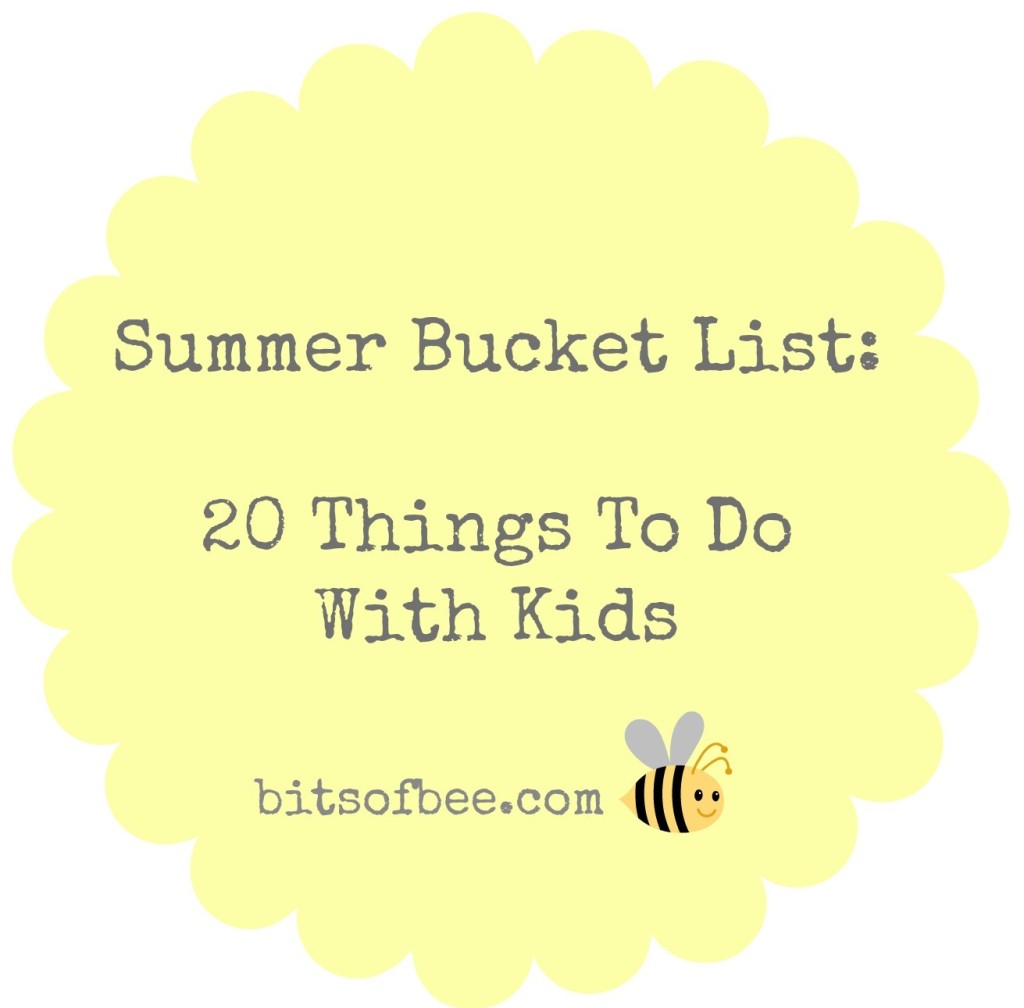 1) Discover New Hobbies. My daughter has recently expressed an interest in skateboarding, and my son has just finished a Turf & Tots intro to soccer program. I'm hoping that with a little practice over the Summer, these new interests will evolve into lifelong hobbies.
2) Try Geocaching. I've been hearing about geocaching for a few years now but have yet to try it out. Geocaching is an outdoor treasure hunt involving a GPS-based App and hidden treasures which can be found in various locations all over the world. It sounds like a great way to engage the whole family in a fun outdoor adventure!
3) Test The Taste Buds. I'd like to try to cook one new recipe per week over the Summer months. I have a slow cooker that has never been used, and a pile of delicious dessert recipes that have been waiting to challenge my beginner-level baking skills.
4) Go On A Day Trip. While a vacation may not be within our family budget this Summer, I'd love to take the kids on a day trip to a fun local destination such as Harrison Hot Springs, Whistler or Cultus Lake.
5) Enjoy Fish & Chips in Steveston. My best friend lives in the quaint fishing village so you'd think I frequent the area often, however due to the distance from our home, my kids and I rarely make the trek. This Summer it's a must do on our list.
6) Explore The Newly-Expanded Vancouver Aquarium. The Aquarium has been a construction zone for ages and is finally ready to share their biggest expansion ever. I can't wait to check out their big reveal and see all the new additions and changes they've made.
7) Complete the Summer Reading Program. Thanks to the efforts of the BC Library Association, a great Summer reading program is in place, focused on encouraging young readers to keep reading during the Summer months. My daughter loved completing the program last Summer and can't wait to do it again.
8) Enjoy Movies For Mommies. When I had my first baby, I was introduced to Movies for Mommies, a family-friendly movie theatre viewing experience created for the comfort and enjoyment of parents with little ones in tow. It has been years since my last visit, and this would be a great rainy-day activity for us to enjoy.
9) Visit The Lions, Tigers and Bears. It has been over 3 years since our last visit to the Greater Vancouver Zoo so I think we're due to make the trek out there.
10) Master Swimming. Swimming has been a bit of a challenge in our family. My oldest has taken lessons since her baby years, but doesn't seem to enjoy the life skill, and therefore has yet to make it past the Tiny Tots swimming levels. I'm hoping a few visits to Vancouver's array of outdoor pools and nearby lakes will spark her interest.
11) Enjoy A Picnic Dinner In Deep Cove. This is definitely something we'd like to do more often this year. Only 5 minutes from our home, Deep Cove is the perfect setting for an early evening family picnic by the ocean.
12) Stroll Through Stanley Park. Recently ranked as the #1 park in the world, Stanley Park offers the perfect picturesque setting for a day of family fun outdoors.
13) Splash Around At The Granville Island Waterpark. A day in Granville Island, my favourite Vancouver destination, is a must-do on my annual Summer bucket list. Not only does Granville Island offer delicious food, beautiful scenery and fun shopping, but their waterpark is a fantastic way for the kids to cool off on a warm Summer's day.
 14) Tour Vancouver By Boat. One of our family's favourite things to do in the Summer is to ride around the shores of our beautiful city on our little boat. A full day of picnicking, dipping in the ocean, and zooming around on the water is the perfect way to enjoy a Summer day outdoors.
15) Go Fly A Kite. On a windy Summer's day, we love to take our little kite to one of our local beaches for a little kite-flying fun. Our favourite spots on the North Shore to fly a kite are on the West Vancouver beaches of Ambleside and Dundarave.
16) Take A Hike. I plan on taking the kids for lots of little hiking jaunts around our neck of the woods – the stroller-friendly walking trails of the North Shore.
17) Visit With Family. With a new baby in our family, I'm hoping to visit our family in Gibsons, Victoria and Prince George this Summer.
18) Take In A Parade. We will definitely attend the annual Canada Day parade in our neighbourhood, and hope to make it out to the Sea Cavalcade for more parade fun in Gibsons this Summer as well!
19) Go Tubing. With the river steps from our front door, tubing is a Summer must!
20) Visit An Ecology Centre. Our local Ecology Centre is a great place to spend a few hours indoors with the kids on a rainy day. Offering educational, interactive displays, and an array of toys for hands-on fun, the Ecology Centre is a great place to learn and play!
Do you have any fun activities for kids to add to my Summer bucket list?